Spotlight: Briarwood Products offers COs a solution to the danger of improvised weapons
The company's main focus is to keep corrections officers and inmates safe while cleaning
---
Company Name: Briarwood Products
Headquarters: Cleveland, Ohio
Website: http://www.briarwoodproducts.com/
Briarwood Products is the leading manufacturer of safe shank-free and metal free correctional cleaning tools. Their mission is to enhance the overall safety in correctional facilities by eliminating the creation of shanks. Briarwood Products offers a full line of high-quality plastic cleaning tools and has newly designed their Orange Shank-Free and Metal-Free product line. 
1. What is your signature product and how does it work?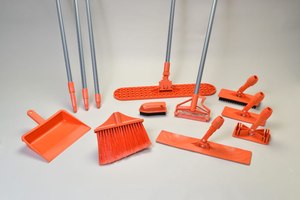 The Shank-Free and Metal Free cleaning tool product line. All products are made from a special rubbery plastic that eliminates an inmate's ability to sharpen the tools into shanks or weapons of any sort.
2. Why do you believe your products are essential to the corrections community?
Our products are meant to be used in prisons to keep corrections officers safe while inmates are cleaning. These products will also keep the inmates safe from one another while they are performing their cleaning tasks. Our product heightens the overall security in correctional facilities.
3. What has been the biggest challenge your company has faced?
Our research and design was very challenging. We understand how important security is in the facilities and we know that we need to create the safest product possible. Our designs keep evolving and that is the biggest challenge.
4. What makes your company unique?
We are the only company in the world that sells this type of product.
5. What do your customers like best about you and your products?
Our customers like that they do not have to worry about weapons being made from our products. They also like and appreciate our customer service and how fast the turnaround from order to delivery is.
6. What is the most rewarding part of serving the first responder/local government community? 
The most rewarding part of serving the correctional facilities is knowing that we are working hard every day in creating products that will keep the officers safe in their facilities.
7. What's next for your company? Any upcoming new projects or initiatives?
We are about to release in the next couple of months our newest product - The Shank-Free and Metal Free 18" and 24" Push Broom. 

Request information from Briarwood Products, LLC
Thank You!