PRESS RELEASE
Briarwood Products adds to shank-free, metal-free line
---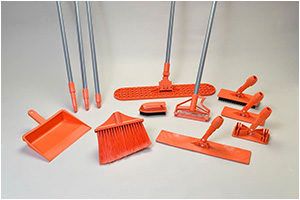 CLEVELAND, OHIO (December 7, 2018) – Briarwood Products is continuing their efforts in safety innovation for correctional facilities. Not only have they improved their products but added to their Shank-Free line by adding a push broom, squeegee, plunger, and new product category. Briarwood has recently redesigned their plastic handle to withstand the heavy weight and strain from wet mops as well as other stresses the handle endures. The plastic handle is strong, durable, and is the safest option to use in correctional facilities.
Along with the redesigned plastic handle, Briarwood Products has added a new Shank-Free and Metal Free Push Broom and Squeegee. Both products are metal free meaning there are no metal screws or staples used in their assembly and are both made from a type of plastic that is unable to be sharpened into a weapon.
Briarwood Products is continuously evolving their products due to the needs requested from each facility. Due to such requests, they have added a new product category to their line specifically for cuff and restraint boxes. These products are designed to fit perfectly in a cell pass through box to eliminate the need of opening cell doors for transferring cleaning tools to inmates for cell cleaning. These products have increased the overall security and safety in facilities by eliminating cell doors from being opened and limiting physical contact between the correction officer and inmate.
100% Made in the USA, and being used in correctional facilities throughout the world.
About Briarwood Products
Briarwood Products is the leading manufacturer of safe shank-free and metal free correctional cleaning tools. Our mission is to enhance the overall safety in correctional facilities by eliminating the creation of shanks. Our cleaning tools are made from a special rubbery plastic that cannot be sharpened to made into a weapon. 
Briarwood Products offers a full line of high-quality plastic cleaning tools and has newly designed our Orange Shank-Free and Metal-Free product line. These products are ideal for use in correctional facilities and safe for all to use. 

Request more info from Briarwood Products, LLC
Thank You!