Keefe's kiosks simplify prison systems
The machines will free up officers for more demanding tasks and increase safety
---
By C1 Staff
Keefe Group's kiosk systems aim to simplify normal prison tasks and free up officers for more demanding work.
The Access Secure Intake Booking Kiosk collects money from new inmates in a secure fashion and with minimal officer interaction. Built around a virtual cash drawer in the Keefe Commissary Network software, it can't be manipulated.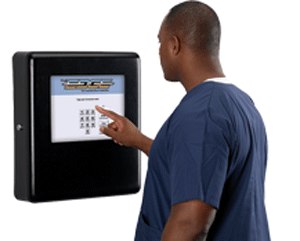 The drawer closes every time the kiosk is emptied and a new drawer is immediately opened for continual use.  It accepts both cash and coins, tracks all deposits during a given shift, and allows booking deposits to be cleared more efficiently at the end of a shift.
The Access Secure Deposits Lobby Kiosk allows inmates' families and friends to deposit funds via cash or credit card. The service is free to all correctional facilities.
All funds deposited to the inmate's account are guaranteed. Real –time posting of funds is available.
The Edge Pod Kiosk is a self-service system where inmates can access account balances and transaction history, place commissary orders and view facility bulletins and information.
They can also communicate with family through Access Secure Mail, and receive approved photos from family and friends. Inmates can also draft a request for informal resolution, grievance or appeal.
For more information on any of Keefe's kiosks, check out their website.

Request product info from top Facility Products companies
Thank You!