How video arraignments benefit public safety and save money
Thanks to an innovative program, prisoners who pose a serious risk to the community don't need to exhaust CDCR resources when they appear live in court
---
By Ike Dodson
Reprinted with permission from Inside CDCR.
D. Arzate, a convicted murderer serving a life sentence without the possibility of parole, has a history of aggression in prison, but his appearance in Kern County Prison Court added little tension to arraignment proceedings on October 16.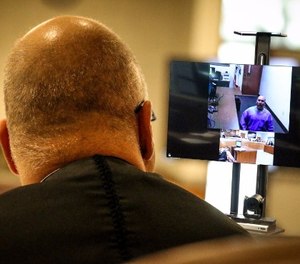 It helps that the Pelican Bay State Prison inmate never stepped outside the facility's secure perimeter, 600 miles away in Crescent City.
Streaming video brings Kern County inmates to court
Thanks to an innovative program facilitated by Kern County Superior Court Judge David Wolf, prisoners who pose a serious risk to the community don't need to exhaust CDCR resources when they appear live in court, which is now possible via streaming video at their respective institutions.
The program is specifically available for inmates who committed a crime while institutionalized in Kern County, and it's a feature showcased only during arraignments – the brief pre-hearing court appearance when inmates' charges are read, future court dates are established, inmate counsel is assigned and bail is set.
Thanks to Kern County Prison Court, the state can alleviate the public safety risk of an inmate being transported up to 1,200 miles for a brief courtroom procedure. The whole session takes about 10 to 15 minutes and during the proceedings inmates do not enter into guilty pleas or accept a settlement with the District Attorney's office.
Each institution is highly encouraged to use the video conferencing equipment to facilitate this process where possible.
It's also thrifty. When you consider the fuel, vehicle maintenance, and regular/overtime hours, video arraignments are an economical answer to expediting a short court appearance, especially when inmates are coming from as far away as Crescent City.
Video arraignments expanded to out-of-county inmates
The local savings has been ongoing in Delano for several years, but in July 2017, video arraignments expanded to out-of-county CDCR inmates who committed their crimes in Kern County before transferring out of the area. So California's one-and-only prison court can already attribute out-of-county savings to the program.
And the Delano judge is just one part of the team that makes this possible.
"Without teamwork from all the different agencies, it would all fall apart," Wolf said. "It takes the sheriff, CDCR, the wardens, the DA's office, the court staff – everybody working together to make this happen.
Kern County Prison Court hosts hearings for inmates from California City Correctional Facility, California Correctional Institution in Tehachapi, Kern Valley State Prison in Delano, North Kern State Prison in Delano, Wasco State Prison and community correctional facilities in McFarland, Shafter, Delano and Taft.
The concentration of area correctional facilities makes prison court in Delano essential to the county and CDCR's transportation staff.
Wolf likes to remind his staff that they serve an inmate population roughly the size of McFarland (population 19,044), a town about seven miles south of Delano on Highway 99.
The Delano facility has grown via renovation in 2017, and is much more than a courtroom. The blueprint now includes 21 holding cells, a public viewing area behind bullet-proof glass, private interview rooms, a "fishbowl" viewing room for inmates to interact with proceedings and a control booth. The facility has come a long way from staging inmates in rows of vans in the property parking lot, back in 2011.
The video arraignments have been a feature of Kern County Prison Court for a few years, but July's out-of-county expansion has elevated the program efficiencies and safety achievements.
Collaboration key to program success
Wolf credits the success to great relationships between partners. His vital connection to CDCR is Correctional Officer Rafael Torres, who is assigned to Kern County Prison Court. Wolf spoke highly of Officer Torres and the dependability of institutions that work with court staff to facilitate the streaming video.
It's Torres who locks in the schedule of video arraignments with the corresponding facility.
"A warden told me that when it comes to video arraignments, the cost savings is like the icing on a cake, but the safety and security of doing that in prison is the cake itself," Torres said. "Every time we don't have to transport an inmate, we are contributing to public safety. It also saves the officers a long trip for a short arraignment."
Torres and court staff work together to schedule the video arraignments four weeks prior to their digital appearance in Delano. He said all 35 of California's adult institutions have the capability to participate. Aside from the regular appearances by Kern County defendants, recent arraignments included inmates from Vacaville, Sacramento, Stockton, Salinas, San Luis Obispo, Corcoran, Chowchilla, Tehachapi, Pleasant Valley, Susanville and, of course, Pelican Bay. Since July, nearly 70 percent of the arraignments at Kern County Prison Court have happened on live video.
Correctional officers and inmates prefer video arraignments
It's at Pelican Bay, about 10 miles south of the Oregon border, where video arraignments are so dramatically beneficial.
Until July, to circumvent an arraignment in Kern County, CDCR transportation staff had to embark on a trip up to four days long from Crescent City to Delano and back, complete with overnight stays at correctional facilities along the way.
The grueling travel, even just one-way, is nearly the equivalent of a trek from West Virginia to Kansas.
And it's not easy on inmates either.
Wolf and Torres said inmates prefer to not interrupt their programing with burdensome travel for a short hearing.
Inmate counsel agrees.
"Overall, the video arraignments make it a more humane way to treat our clients without the feeling that they're a number," said Christina Matias, supervisor of the Kern County Public Defender's Office. "Instead of driving six or 10 hours or more in a day, the client is able to do the arraignment in the prison where he or she is housed, which means they are able to program in their facility.
"With the video arraignments or video sentencing, the client is able to stay at their prison and continue with their medical regimen. All in all, it's a win-win for both sides."
Wolf was the inspiration for out-of-county video arraignments, and it was a plan put into action after Sara Danville, Kern County Supervising Deputy District Attorney, proposed it at CDCR's Prison Crime Council meeting.
Danville was present during the October 16 arraignments and offered her insight into the video feature.
"Now that we have implemented it, I am even further convinced of the value of this program," she said. "Every time we can handle a hearing through video, we not only save incredible monetary resources, but we avoid a potential safety risk."
Those sentiments are echoed by CDCR's Director of the Division of Adult Institutions, Kathleen Allison, who has seen the safety and transportation benefits happen in real time.
"When accounting for the cost of fuel, wear and tear on state vehicles, overtime for correctional staff, and safety and security of both correctional staff and inmates, the benefit of conducting a video arraignment at the inmate's home institution can result in significant reduction of transportation costs and is also optimal for overall public safety," Allison said.
How the inmate video arraignment works
CDCR's Integrated Communications Unit of Enterprise Information Services (EIS) was on the operational ground floor of the project.
"We worked with Kern County IT staff to identify a solution that would meet their needs as well as be compatible with our enterprise system," EIS Project Manager Sylvia R. Dumalig said. "After Kern County procured and installed their equipment, our staff assisted with some configuration and firewall changes, as well as testing to ensure successful operation."
Thanks to EIS, the operation runs smoothly in Delano. Torres arranges video calls to the institution, and custody staff at the corresponding institutions have inmates ready to appear before the court on a large television inside the courtroom.
Wolf introduces the counsel and confirms that inmates are both comfortable with the format and cognizant of the process. He deftly navigates through the proceedings and arranges future in-court appearances for the charges that spawned the day's arraignment. The video feature doesn't change how the arraignment functions.
It's an efficient system and Wolf, specifically designated for prison court hearings, is a master of it. He's directed Kern County toward an innovative future in prison litigation and he's been a gracious host to his partners.
"I'm really grateful that the presiding judge trusted me with this assignment and is supporting us so that we can do this," Wolf said. "I think it's wonderful when you see everyone from county, city, state, all these agencies working together to save our taxpayers money and promote public safety.
"As giant bureaucracies, we really have not caught up with all the things we can do with technology, and I really feel like the sky is the limit.
---
About the author
Ike Dodson is CDCR PIO in the Office of Public and Employee Communications

Request product info from top Corrections Inmate Visitation & Communication companies
Thank You!