Primonics' TeleCorrections has options to fit prisons' needs
Offers three different terminals: single handset, dual handset, or hands-free
---
By C1 Staff
Primonics' TeleCorrections system offers several different types of terminals as well as varied applications depending on a facilities' needs.
The TeleCorrections system offers three different terminals: single handset, dual handset, or hands-free.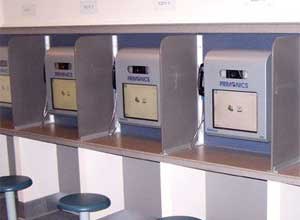 All three are made of a hard, metal casing and offer a vandal-proof, 15-inch touchscreen. All have integrated HD video, audio and lighting, except for the hands-free option, which has an integrated HD Pan-Tilt Zoom (PTZ) camera.
Primonics offers user and system management of the video communications process, a scheduler that can be integrated with any jail management system, and an inmate information lookup that offers basic information to inmates. Information such as an upcoming court date, commissary balance, and bail amount can be made available to inmates via the application on the touchscreen.
Inmates can also place sick calls to a facility's medical clinic or nursing station through the touchscreen. This allows medical staff to evaluable complaints or concerns and take appropriate action for triage priority.
TeleCorrections also offers a TeleChat option, which allows internal users such as attorneys, probation officers and jail administrators to securely communicate with each other using their computers.
For more information, check out Primonics' website.