Renovo pairs easy-to-use system with durable enclosure
Both VisStation and its accompanying enclosure were made specifically for a corrections environment
---
By C1 Staff
Renovo Software's video conferencing device, VisStation, is optimized for a correctional environment.
VisStation is both H.323 and SIP compatible, in addition to H.263 and H.264. This allows facilities to communicate with all industry-leading video conferencing devices. Thus VisStation is not only compatible with other visitation stations, it also allows you to connect inmates to public defenders' offices, courtroom arraignment, or a myriad of other locations.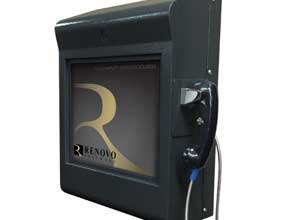 VisStation utilizes Adobe Flash to communicate with other Flash-enabled devices (such as a home computer or mobile device). Renovo VisStation allows you to deploy both on-premise and internet video visitations while still communicating with other devices such as Polycom and Cisco codecs.
The video visitation enclosure features a durable, modular design that allows facilities to add or remove optional components like a USB port, keyboard or touchscreen as needed.
The enclosure is constructed of hardened steel and Lexan polycarbonate. A seal and drain system protects against spills while all other inner components are plugged into a heavy duty, built-in surge protector. A hidden inner hinge and security Torx bolts allow for easy access to inner components while protecting against abuse and tampering.
For more information, check out Renovo Software's website.