PRESS RELEASE
Adamson Industries to Release The Intersector SM by SoundOff Signal in Early June
---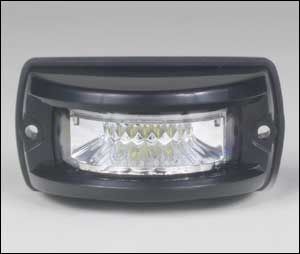 HAVERHILL, Mass. - Adamson Industries Corp., a leading provider of public safety vehicle equipment and installation services is pleased to announce the release of a brand new product from SoundOff Signal, the Intersector™ SM.  An addition to the original Intersector under mirror light, this surface mount light offers 180 degree light output for greater side warning.  Specially designed reflector amplifies and throws the light at the perfect angle to increase visibility at intersections.
Features
The Intersector™ SM features 9 Gen3 LEDs with 30 flash patterns.  Input voltage is 10-16 Vdc with the current draw at less than 1.5 amps.  Solid colors are available in amber, blue, green, red or white.
Pricing and Availability
The Intersector™ SM includes the surface mount light in your choice of LED and housing colors (black, chrome or white), neoprene gasket and mounting hardware for installation.  A deck/grille bracket is available and optional for a variety of mounts such as push bumpers.  An early June release date has been set for the Intersector™ SM.
For more information, please visit www.adamsonindustries.com or call 800.232.0162 to speak with any Adamson Industries customer service specialist. 
About Adamson Industries Corp
Adamson Industries Corp. located in Haverhill, Ma, provides agencies with safe, reliable and user friendly vehicles and equipment.  With more than 50 product lines, Adamson Industries Corp. offers a wide selection of equipment including vehicle lights, lightbar systems, prisoner partitions, siren systems, K-9 units, consoles, push bumpers and more.  In addition, Adamson Industries Corp's state of the art installation facility offers a one stop source for creating highly productive law enforcement vehicles from simple installs to more complex upfits.  Adamson Industries is also a multiple GSA Contract holder.  For more information or to request a copy of the 2012 Fleet Manager Buyers Guide, visit us on the web at www.adamsonindustries.com.