3 COs charged with murder in beating death of Fla. inmate
A fourth officer is also expected to be charged in the death
---
By David Ovalle, Ben Conarck
Miami Herald
        
MIAMI-DADE COUNTY, Fla. — A group of South Florida prison officers have been charged with murder for beating an inmate so badly that he died after suffering a punctured lung and internal bleeding, authorities said Thursday.
Three of the officers were booked into a Miami-Dade jail on Thursday afternoon, two months after 60-year-old inmate Ronald Gene Ingram was discovered dead inside a prison transport van.
[MORE: 10 COs on leave, one resigned, after Fla. inmate dies in prison van]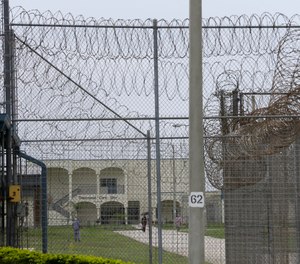 The officers from Dade Correctional Institution have been identified as Ronald Connor, 24, Christopher Rolon, 29, and Kirk Walton, 34. A fourth officer is also expected to be charged in the death, which was first reported by the Miami Herald.
The arrests cap an exhaustive law-enforcement investigation and are yet another black eye for Dade Correctional, the troubled prison in Homestead that has been plagued by prisoner mistreatment and inmate deaths. Law-enforcement officials, including State Attorney Katherine Fernandez Rundle and Florida Corrections Secretary Ricky Dixon, plan to detail the case at a press conference on Friday in Miami.
The group is charged with second-degree murder, conspiracy, aggravated battery of an elderly adult and cruel treatment of a detainee.
"What happened in this case is completely unacceptable and is not a representation of our system, or of Dade Correctional Institution as a whole," Dixon said in a statement Thursday. "The staff involved in this case failed, and as an agency we will not stand for this. FDC is committed to providing a safe and professional environment for inmates and offenders. All inmates, regardless of their crimes, have a right to serve their time free from victimization and abuse."
Dade Correctional, located in a rural zone about 40 miles south of downtown Miami, has been one of the state's most problematic prisons. The Herald published an exposé on the facility's "transitional care unit" that houses mentally ill inmates, where inmates have complained about officers refusing to give them food or putting laxative and urine in their meals. Ingram was housed there before his death.

Most notably, a mentally ill inmate named Darren Rainey died in 2012 after he was confined to a hot shower in the mental health unit, the prison's "transitional care unit," a case detailed extensively by the Herald. The State Attorney's Office declined to prosecute officers after the Medical Examiner's Office ruled the death an accident.
Mortality records dating back to August 2016 show that there have been 99 deaths at Dade Correctional since then, the majority listed as ones caused by natural causes.
Even before Ingram's death, the state had vowed to reform Dade Correctional, adding increased video surveillance and hiring ombudsmen to represent inmates. A new warden had been appointed recently.
Details of the evidence against the officers were not immediately available. Arrest warrants remained sealed on Thursday evening.
But the Florida Department of Law Enforcement, in a press release, offered the first detailed state account of what happened.
Early in the morning on Feb. 14, Ingram was to be transferred from Dade Correctional to Lake Correctional, which is northwest of Orlando. But before he was removed from his cell, he "reportedly threw urine on one of the officers," FDLE said.
"Correctional officers were able to place handcuffs on him and remove him from his single cell," the press release said. "After the inmate was removed, even though he was in handcuffs and compliant with officer commands, agents say the officers began to beat him."
The beating happened in an area the officers knew was not covered by surveillance cameras, sources have told the Herald.

But footage did reveal just how badly Ingram was injured.
"The inmate was beaten so badly he had to be carried to the transport van," the release said. "Once inside, he was placed in a secure compartment by himself."
Ingram, who had been serving a life sentence for murder, was found dead hours later inside the van when it stopped hundreds of miles away at the Florida Women's Reception Center in Ocala.
The probe was handled by FDLE agents from Jacksonville and Miami. An autopsy revealed the punctured lung and "injuries to his face and torso consistent with a beating," the release said.
"In the past two and a half months, FDLE agents and analysts have worked more than 1,700 hours on this investigation, conducting more than 45 interviews and writing 77 investigative reports so far," FDLE Commissioner Rick Swearingen said in a statement.
It was unclear if the three officers jailed on Thursday had retained defense attorneys. The Florida Police Benevolent Association, which often represents corrections officers in trouble, did not return a call from the Herald. The three, who are being held with no bond, are expected to make their first appearance in court on Friday morning.
The law firm Trentalange & Kelley, which represents the slain inmate's family and is planning to sue the state, declined to comment on Thursday.
Ryan Andrews, another civil attorney who has represented prisoners who were the victims of high-profile beatings, expressed mixed feelings about the charges. While he welcomed the accountability for officers accused of Ingram's death, Andrews said it was disturbing that so many previous beatings had gone unaddressed.
"DOC had the opportunity to do this for so many other inmate beatings and deaths, and they didn't do jack," Andrews said. "In that regard, it leaves a bad taste in my mouth."
Andrews represents Cheryl Weimar, who was 51 and had severe mental health issues when she was beaten so badly she was paralyzed at the Lowell Correctional Institution in 2019. Despite the beating leading to a $4.65 million settlement, no criminal charges were filed in the case.
Andrews also praised Secretary Dixon, who he has previously said was a good choice to lead the department. The severity of the charges, Andrews said, could be a sign of a "culture change" at the top, signaling the administration would hold officers accountable despite critical staffing shortages plaguing the agency.
"The only person who can make that happen is Ricky Dixon," Andrews said. "Until there's a big cover-up at his helm, I think this is what is fair to expect from him, and this is what the people of Florida should expect."
Criminal charges against officers for attacks on inmates are rare, although there have been several publicized South Florida cases in recent years. That includes the 2018 arrest of Col. Patrick Riggins, who works at Everglades Correctional Institution, for pepper spraying an inmate, and the conviction of South Florida Reception Center Officer Terrance Reynolds, who assaulted inmates with a broomstick.
Cases of officers being charged with murdering an inmate are even rarer. In 1999, nine officers at Florida State Prison in Bradford were charged with fatally beating an inmate named Frank Valdez — a case that ended in a series of acquittals and dismissed charges.
©2022 Miami Herald.
McClatchy-Tribune News Service