Former Calif. corrections officer charged with sexually assaulting 13 at women's prison
"These allegations aren't a reflection on all of those correctional officers who work hard in keeping our citizens safe," the district attorney said
---
By Sam Stanton
The Sacramento Bee
CHOWCHILLA, Calif. — A former guard suspected of sexually attacking at least 22 inmates at the Central California Women's Facility in Chowchilla has been arrested and charged with multiple counts of rape and other charges.
Gregory Rodriguez, 55, was booked into the Madera County Jail Wednesday morning on 96 counts that include charges of rape, sodomy, sexual battery and rape threatening to use authority, online jail records say.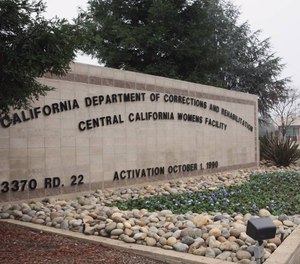 He was being held in lieu of $7.8 million bond, jail records say.
Madera County Superior Court records online did not reflect formal charges against Rodriguez Wednesday, but District Attorney Sally Moreno told The Bee that the charges involve 13 separate victims and that if anyone has information about additional victims they can call 559-975-9124.
"We're looking into the possibility that there are other victims out there," she said.
The charges allege 39 individual sexual assaults, some charged in more than one way, she said, and could result in Rodriguez facing up to 300 years in prison.
"These allegations aren't a reflection on all of those correctional officers who work hard in keeping our citizens safe," Moreno said, adding that the 96 counts are the most she could recall in a sex assault case going back more than a decade.
Moreno confirmed to The Bee in December that her office was probing allegations against Rodriguez, who came under investigation in July by prison officials and was placed on leave. He later retired.
Rodriguez also is the subject of two lawsuits by former inmates who said in court filings that he sexually assaulted them inside a hearing room at the prison, and at least two other inmates are expected to file lawsuits in the coming weeks.
Rocklin attorney Robert Chalfant, who represents those four inmates, said he was pleased with the arrest and that federal authorities also are looking into allegations against Rodriguez.
"This is a good first step toward achieving some level of justice for my clients," Chalfant said. "They're very excited to hear that he's being prosecuted for the crimes he committed."
Chalfant said he was disappointed that California Department of Corrections and Rehabilitation officials have argued that state officials are not responsible for Rodriguez' alleged actions.
"The state of California has taken the position that there's no civil liability for what he's done," Chalfant said. "I intend to file several new lawsuits very soon and get to the bottom of how this guard could rape so many woman over such a long period of years without anyone ever putting a stop to it."
The lawsuits described a code of silence inside the prison that allowed Rodriguez to prey upon inmates.
Corrections officials noted in a statement that prison officials had begun the investigation of Rodriguez and handed their findings over to the Madera district attorney.
"Today's arrest and charges of Gregory Rodriguez follow CDCR's internal investigation and referral to the Madera County District Attorney's Office," the statement said. "As stated when we brought this case to light, the department resolutely condemns any staff member — especially a peace officer who is entrusted to enforce the law — who violates their oath and shatters the trust of the public."
In court filings in response to the two lawsuits, Rodriguez has denied the women's claims. His lawyer's office did not immediately respond to a request for comment on the arrest.
Madera jail records list 96 counts against Rodriguez: 16 counts of rape by force or fear of immediate injury; 16 counts of rape threatening to use authority; 12 counts of forced oral copulation; 12 counts of oral copulation involving threats by a public official; 12 counts of sexual penetration with threat to arrest or deport by a public official; three counts of engaging in a sex act with a confined person; five counts of sodomy on a victim compelled by force or threat; one count of bringing drugs into a prison; two counts of attempted forcible penetration with a foreign object; two counts of attempted sexual penetration with threats of authority; two counts of sodomy with a threat to arrest or deport by a public official; one count of attempting a crime; two counts of attempting to engage in a sex act with a confined person; five counts of sexual battery and five counts of an officer engaging in sex with an adult confined in a health facility.
—
©2023 The Sacramento Bee.
Visit sacbee.com.
Distributed by Tribune Content Agency, LLC.
McClatchy-Tribune News Service