After lawsuit, NJ will move transgender inmate to women's facility
The inmate has been housed in a men's facility for the last 17 months
---
By Anna Orso
The Philadelphia Inquirer
HUNTERDON COUNTY, NJ — Prison officials in New Jersey agreed to move a transgender woman housed in a men's facility for the last 17 months to a women's prison after she filed a lawsuit claiming she was subjected to sexual harassment, assault and discrimination by fellow inmates and prison staff on a near-daily basis.
The woman, identified under the pseudonym Sonia Doe in court filings, has been confined in four men's facilities — either with male roommates or in isolation — since she entered prison in March 2018 "for offenses stemming from" an addiction to prescription pain pills, according to a lawsuit filed two weeks ago in Superior Court by the ACLU of New Jersey on the woman's behalf.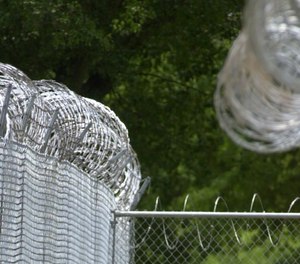 The state Department of Corrections told the court Wednesday that Doe will be transferred by mid-September to the Edna Mahan Correctional Facility in Hunterdon County.
Tess Borden, a staff attorney with the NJ ACLU, said the move is "an important first step," but the litigation will move forward. She said the ACLU hopes to work with the department to develop updated policies related to its work with transgender inmates.
"As Ms. Doe's case shows, transgender people in prison face unique and extraordinary vulnerabilities and risk of physical and sexual assault and harm," Borden said. "So it's hard, and arguably dangerous, for someone to do what Ms. Doe has done."
DOC spokesman John Cokos said the agency doesn't comment on pending litigation.
According to court filings, Doe has identified as female since childhood and publicly "lived as a woman," including using a legal feminine name, for the past 15 years. She has been diagnosed with gender dysphoria and undergone prescribed hormone therapy since 2005. In addition, her New Jersey driver's license, initially issued in 2007, reflects her female gender and legal name.
Through her 17 months in prisons in Trenton, Bridgeton and Newark, Doe says she was consistently referred to by male pronouns and at times denied commissary items, like grooming supplies and female underwear, that are available to inmates housed at the women's facility.
When she first entered the state's Central Reception and Assignment Facility in Trenton, Doe said she was searched, then forced to expose her breasts to staff and other inmates.
The ACLU initially filed a request for a transfer on behalf of Doe this April pursuant to a DOC policy that allows transgender inmates to request a housing switch. Borden said that although Doe had repeatedly informed prison officials of her gender identity — and has medical records that reflect she's transgender — she wasn't informed of the policy allowing her to request a housing change while living in a male prison for more than a year.
According to the complaint, officials received her request but never informed her of a final decision. She claims that a month later, while being housed at the Northern State Prison in Newark, a staff member fondled her breasts under the guise of a pat-down security search in a room without surveillance cameras. Doe said there were three male staff members in the room who beat her after she said she'd be filing a grievance related to the alleged fondling.
Attorneys who visited her four days later said she had a black eye, as well as foot-long bruises on her arms and legs. Following the alleged assault, Doe was charged with and found guilty of disciplinary offenses related to the incident, and she was placed in "administrative segregation," or solitary confinement. (Last month, Pa. Gov. Phil Murphy signed a law limiting the use of solitary confinement and placing restrictions on its use for LGBTQ inmates.)
Borden said it's not clear how many transgender inmates are being housed in New Jersey prisons and jails inconsistent with their gender identity.
According to the National Center for Transgender Equity, which conducted a 2015 survey of nearly 30,000 transgender people in the United States, transgender inmates are 10 times as likely as the general prison population to be abused by other inmates and five times as likely to be abused by staff.
©2019 The Philadelphia Inquirer
McClatchy-Tribune News Service