Top legal issues that impacted corrections in 2017
Lawsuits and legal rulings can provide teachable moments for both correctional leaders and COs
---

As a retired jail deputy, I know that lawsuits against jails and prisons offer teachable moments. I am not a lawyer, and do not profess to be one. But as a trainer, I do believe that cases brought by inmates against correctional facilities should be discussed, examined and reviewed with line correctional officers.
One such case is Chassie v. Marberry, 847 F.3d 425 (7th Cir. 2017).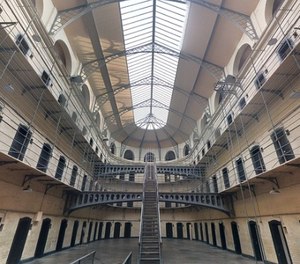 Inmate welfare
Federal inmate William Miller was suffering from a brain tumor. Miller was supposed to have a lower bunk, but was placed in an upper bunk. He informed the CO in his area about the discrepancy. According to court records, the CO told the inmate he would not get a lower bunk and, if he refused the upper bunk, he would be written up for refusing a direct order.
In early 2009, Miller fell twice from the upper bunk and suffered serious injuries. Miller died, cause uncertain, about four months after he fell for the second time.
The federal district court granted the defendant's motion for summary judgment.
In the majority opinion, the court discussed what Miller should have done to make his claim more clear, and also said that the CO and the warden did not know the details, consequences and the appropriate accommodations that were needed.
The appeals court also thought the inmate had a duty to provide the relevant details; there was no duty whatsoever (italics mine) to check into the situation after the first fall of the inmate. They also opined that not all brain tumors are serious, and correctional officers do not have to believe everything an inmate tells them. [1]
The inmate's position was: I informed the CO in my area that I had a lower bunk assignment, the warden ignored me, I was placed in an upper bunk with a serious medical condition, and I fell.
The dissenting judge noted that Miller was given a lower bunk restriction a month after entering the facility, and his records were noted.
After the first fall, he complained to the CO and an attending nurse. He also said to the warden during her weekly rounds that he had fallen and should be in a lower bunk. According to the complaint, she did nothing to check it out. Also, according to the complaint, Miller had previously on occasion discussed the problem with her.  
The first fall resulted in lost consciousness; the inmate hit his head. No fall related injuries were reported.
Upon his return from receiving care, he was assigned to an upper bunk. He did not say that the CO or the warden played a role in his assignment then to an upper bunk. The second fall, six feet to the floor resulted in a back injury, which apparently became infected. After hospitalization, he was assigned to a lower bunk. [2]
He filed an administrative complaint, saying that he should not have been placed in an upper bunk because of his serious health problems. He was required to have documentation on medical restrictions to present to COs, but he lost the paperwork confirming the lower bunk restriction and it took some time to get it replaced.
The dissenting opinion stated that Miller was given a lower bunk restriction in January 2008 before both of his falls and it was noted in the facility database, but the inmate did not have documentation to show the CO in order to satisfy his request for a low bunk.
So what is the big deal about this case? Why the hoopla over a lower bunk vs. upper bunk? Let's use the "teachable moment approach," even though the facility won.
First, to be fair, I do not know what was going on in the CO's unit, and I don't know him or the warden personally. Corrections is a tough job. All I am saying is that in hindsight, this possibly could have been handled better. Also note:
Correctional officers are responsible for inmate welfare. If an inmate is in pain or agony, the CO cannot just say, "'I am not a doctor" and walk away. The CO has to make an effort to get medical help. Supervisors know when a serious medical condition exists and check into how their subordinates are handling the problem. In this case – on face value – there was much confusion.
In correctional facilities, we deal with a lot of inmates and a lot of inmate complaints. But are we so jaded, callous and tired that we forget that no matter the inmate charge or institutional record, we are responsible for their welfare? This includes medical care. We are in the people business.
Be proactive. Think ahead – expect the worst and strive to prevent it. An inmate says that he or she has a serious medical need, condition or problem that is not being addressed or rectified. Yes, I know what inmates are like. But if your "gut" says that it could be a serious problem – and it could get worse – get on the phone to medical and document what you do. If there is confusion, notify your supervisor. As I tell my in-service jail CO classes: "Think the worst case scenario and err on the side of caution."
Religious Issues
Another issue does not involve a case but rather a practice.
Writing in the October/November 2017 issue of the "Correctional Law Reporter," University of Texas law student Noor Wadi discusses the restrictions on the hijab or headscarf worn by Muslim women.
In many jails, Muslim female inmates cannot wear anything on their heads due to security reasons, such as hiding contraband. Wadi says that there can be a compromise. [3]
Inmates have brought lawsuits alleging correctional facilities have violated their First Amendment rights. Generally the courts have ruled in favor of correctional facilities. For example, inmates have to adhere to security policies concerning worshiping in groups or engaging in any practice under the guise of religion that could undermine security. An inmate designated assaultive and an escape risk will have to settle for visits from the jail chaplain rather than attending Sunday service. But COs know that a court can also rule in favor of an inmate who wants to engage in a certain practice of his or her religion.  At times these decisions have allowed for some modifications.
Wadi focuses on the hijab, a scarf-like garment worn by Muslim females. She cites several U.S. jails have made modifications to their inmate dress codes to allow inmates to wear hijabs. If a court rules that this religious practice has to be accommodated in a limited but acceptable way, here are some suggestions:
If staff is concerned about hijabs being used as a weapon or noose (strangling or suicide, respectively), paper-based hoods can be issued.
If staff is concerned about hidden contraband, a respectful search policy can be instituted, ensuring that the CO performing the search is female. But the inmate must know that the head covering is subject to search. A good example can be found in the Tennessee Department of Corrections: "All religious clothing or other accessories are subject to respectful search at any time for security purposes."
If COs are concerned about scarves being used for gang formation, the scarves can be supplied in one style and one color, which may prohibit altering for gang recognition.
If COs are concerned about cost, low-risk inmates may be allowed to keep their own scarves; inmates could purchase jail issue scarves and a small number of head coverings could be provided to high risk inmates. All of these can be accomplished at low or no cost. [3]
While I am in favor of security, COs must be good soldiers. We follow the decisions of the courts that trickle down into changes in standards, policies and procedures. I personally believe that the majority of justices believe, as we do, in the mission of COs to maintain security. But we live in a flexible, changing world and we have to adapt. Society is changing. COs must learn to work within those changes.
---
References
1. Cohen F. A lower bunk assignment is ignored and a federal inmate dies. Correctional Law Reporter XXIX, No. 2 (August/September 2017): 17, 18, 20, 30.
2. Est. of Miller by Chassie v. Marberry, 847 F.3d 425 (7th Cir. 2017).
3. Wadi N. Jail veil: The legal and ethical issues surrounding the ban of hijab in U.S. jails. Correctional Law Reporter XXIX, No. 3 (October/November 2017): 33-34, 36-39, 46.