3 trends that will impact correctional healthcare in 2021
Healthcare will remain the largest uncontrollable expense in corrections — COVID-19 has only exacerbated this trend
---
By Tim Stephens, Don Hulick, Gary Maynard, Keith Neely and John Walsh, Ph.D.
In 2020, COVID-19 further exaggerated the difficulty of providing healthcare in the corrections setting. The inability of correctional systems to socially distance inmates from corrections officers currently makes corrections one of the most dangerous settings in which to work or live. Only elder care and skilled nursing facilities have comparable levels of infection, and both were five times higher than in the general population.
Before COVID-19 most facilities had inadequate isolation capacity and a paucity of negative air pressure cells required to separate the sick inmates from the healthy. The lack of facilities to manage COVID outbreaks in corrections has been a regular news story, particularly as many outbreaks in jails and prisons sustained community spread.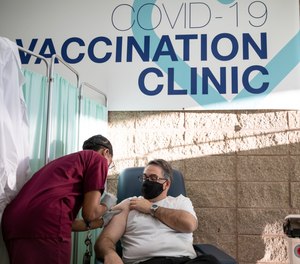 The severity of coronavirus outbreaks in the spring meant that even when facilities were cannibalized (inmates housed in offices), or improvised hospital tents added to parking lots, the single most effective tactic was early release programs. In the fall and now winter the outbreak has returned and jurisdictions are facing legal challenges to their commitment to infection control. [1]
The Eighth Amendment to the United States Constitution guarantees an inmate's right to the community standard of care and requires that corrections officials provide prisoners with "reasonably adequate" medical care. Courts have defined adequate medical care as "services at a level reasonably commensurate with modern medical science and of a quality acceptable within prudent professional standards," and at "a level of health services reasonably designed to meet routine and emergency medical, dental and psychological or psychiatric care." [2]
As we enter 2021, we see a number of trends in corrections healthcare, few of them suggest an easier path ahead:
1. Vaccine policies
In December 2020, states and localities began receiving information about vaccine allocations. The Advisory Committee on Immunization Practices met on December 1 to recommend priorities for the distribution of the COVID-19 vaccine. The committee's dialog largely overlooked a key group: current inmates in the judicial system and the personnel responsible for their security and welfare. 
At the outset of what will be this country's largest mass vaccination program, there will be an insufficient supply of the vaccine for all priority populations. The Bureau of Prisons "will be among the first government agencies" to receive an allocation and they have determined that the allocation will be for staff and not for inmates. [3] It is critical that consideration be given to the inmate population, as 95% of those in jails and prisons will be reentering society.  The infection of COVID-19 in the prisons and jails should be treated as a public health issue that threatens the general population of citizens.
As state and local administrators wait for their allocation there is time to hone vaccine policies, such as should there be mandates for regular staff, medical providers, contracted staff and visitors? Will vaccine records be required of staff, new inmates, or other people entering the facility?
This is perhaps the most important issue facing correctional administrators in the first few months of 2021. Legal challenges and other obstacles can be anticipated, including justification of why inmates were not prioritized even as they are experiencing infection rates that are five times higher than the community. Some counties have already been engaged in lawsuits and are operating under consent decrees to ensure the protection of inmates from COVID-19 health issues. [4] Administrators should begin drawing up policies to address these and other thorny questions.
Corrections1 resource: Interrupting COVID-19 in jails and prisons
2. inmate Mental health issues
Serious mental illness will continue to be prevalent in correctional systems. As social isolation has increased during the pandemic, there has been a significant increase in the demand for mental health services in the community, so it is safe to assume this is the same in corrections.
Lockdowns have been expanded and social distancing is much harder in corrections settings, all adding to the anxiety. As the economy contracts, we can anticipate a reduction in funding, which could impact the ability to effectively manage the mentally ill.
Recently, the Illinois Department of Corrections adopted its first standardized policy for inmates held in segregation, with a focus on limiting the number of prisoners removed from the general population for years at a time. Much of the policy, finalized on November 1, focuses on the needs of the state's 12,000 mentally ill inmates. [5]
Administrators can anticipate mental health challenges to continue in 2021 with a focus on restrictive housing and potential loss of funding for programs.   
Corrections1 resource: The value of crisis intervention training for corrections officers
3. Violence and Injury
Inmate violence was reportedly increasing before the pandemic, [6] with a serious increase in violent incidents in jails and prisons attributed to COVID-19 required lockdowns (by more than 250% in New York City). [7] This presents a legal challenge because courts have found "deliberate indifference to a substantial risk" to prisoners' health could be considered "cruel and unusual punishment." [8]
The Justice Department recently initiated a suit for failing to protect inmates from violence and sexual abuse. Another suit has is unsettled from 2014 "over alleged failures to address the medical and mental health needs of prisoners." [9]
Corrections1 resource: Countermeasures and controls for inmate violence
Additional issues
There are numerous other issues corrections administrators will have to grapple with come the New Year, many of them beyond the current crisis:
Medical provider and corrections officer fatigue brought on by working in emergency conditions for so long;
Ensuring early warning of infectious outbreaks (influenza, hepatitis, or the next pandemic);
High rates of chronic disease among the inmate population;
Containing costs in a market where medical resources are scarce, and legal requirements tightening;
Meeting existing Prison Rape Elimination Act (PREA) requirements to reduce violence and HIV spread in corrections.
As the COVID-19 outbreak accelerates across the nation we can expect it will be a larger threat to inmates, corrections officers, medical staff and the wider community as it circulates into and out of jails and prisons. Current COVID-19 new case levels indicate that responses will continue to be necessary in 2021, in every corner of our nation, even as existing healthcare challenges remain.
Additional data about COVID-19 in corrections settings can be accessed at:
References
1. Smith L. COVID in Colorado: Lawsuit forces Weld County to upgrade jail protections. CBS4 Denver, December 1, 2020. 
2. Manville D. Federal legal standards for prison medical care. Prison Litigation News, May 15, 2003.
3. Associated Press. Federal prisons to prioritize staff to receive virus vaccine. November 23, 2020. 
4. Nicholson K. ACLU and Weld County Sheriff's Office resolve federal lawsuit over COVID-19 concerns. Denver Post, Dec. 1, 2020.
5. Brady-Lunny E. IDOC adopts new 'restrictive housing' rules. NPR from Illinois State University, Nov. 18, 2020. 
6. Lockhart PR. America is finally being exposed to the devastating reality of prison violence. Vox, April 5, 2019.
7. Serious injuries from inmate violence up 284 percent in New York City jails, according to DOC report. ABC-7, New York, New York. 
8. Dober G. Beyond Estelle: Medical rights for incarcerated patients. Prison Legal News. 
9. Campo-Flores A. Justice Department sues Alabama over prison conditions. Wall Street Journal, December 9, 2020. 
---
About the authors
Tim Stephens, MA, is the CEO of SafeJail, a partnership of public health, facility designers, engineers and corrections experts focused on making jails safe. Tim has spent more than 30 years in developing population health innovations and public health preparedness programs. For 10 years he served as the public health advisor to the National Sheriffs Association. Contact him at tstephens@safejail.com.
Don Hulick served the Illinois Department of Corrections for 20 years, before retiring as Warden of Menard Penitentiary. More recently he worked as a vice president of operations for Wexford Health Sources.
Gary Maynard has worked in corrections since 1970. He has served as director of the state prison systems in Oklahoma, South Carolina, Iowa and Maryland. He most recently served as the director of the Parish Jail in New Orleans, Louisiana for the federal court.
Keith Neely, CJM, leads American Correctional Consultants, LLC. Keith oversaw the successful process for the Broward Sheriff's Office, Department of Detention to maintain accreditation recognition from the American Correctional Association (ACA), Florida Corrections Accreditation Commission (FCAC), and the National Commission on Correctional Health Care (NCCHC). He served as a commissioner for the FCAC from 2010–2016, and chaired the Nominating and Standards Review & Interpretation Committees.
John Walsh, Ph.D., is co-director of the Vanderbilt University Medical Center Program in Disaster Research and Training. He served a tour of duty in Vietnam as a Marine before following his father into a career in corrections and law enforcement. He served as sheriff in Oklahoma and was the director of the Oklahoma Sheriffs Association. He is a co-author of the 2019 book "Three Seconds to Midnight," that described how the United States was not prepared for a pandemic.