Ill. CO charged in fatal nightclub shooting
Alan Kettina had been employed as a correctional officer in the Cook County sheriff's department until Sunday when he was de-deputized
---
By Pioneer Press Newspapers
Suburban Chicago
CHICAGO — The Cook County state's attorney's office has charged Alan Kettina, 25, with first-degree murder after Mark Asber, 22, was shot to death outside Niles' Miraj nightclub at about 1 a.m. Sunday. Cook County Circuit Judge Anthony Calabrese set Kettina's bail at $400,000 at a Tuesday hearing.
Kettina, of Northbrook, had been employed as a correctional officer in the Cook County sheriff's department until Sunday when he was de-deputized, according to a Cook County sheriff's office spokesperson.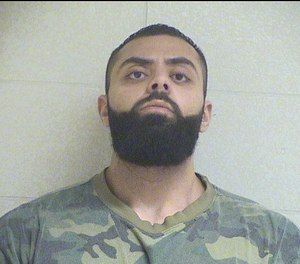 Kettina worked in Cook County Jail, with inmates, since November 2021, the spokesperson said.
In the bond hearing at the Cook County courthouse in Skokie, Assistant Cook County State's Attorney Jennifer Ravin asked Calabrese that Kettina be held without bail for knowingly shooting Asber and said he has used his position with the Department of Corrections to intimidate others.
"If the defendant doesn't like someone, the defendant's temper flares and he uses his gun and his position to get what he wants," she said.
Further, Ravin said, initial investigations have shown two other incidents since December 2022 in which Kettina has threatened to "pop" someone or flashed a badge to intimidate someone.
Kettina admitted to shooting Asber to Niles police, tried to administer CPR to Asber after shooting him and remained on the scene of the alleged crime, she said.
According to a statement from the Cook County state's attorney's office, Kettina told police shooting Asber was "wrong because his back was toward me."
"Which is what's wrong now — if an aggressor comes toward you, it's a different situation," the statement quotes him saying. "But the fact that his back was turned toward me was more of an easy target for me. I'm not going to lie; I took advantage of it."
Kettina's lawyers suggested that Asber may have been trying to push Kettina to bring contraband into Cook County Jail and may have made threats or intimidated him into doing so.
"There could have been some defenses relating to use of force for an officer," defense attorney Ilia Usharovich said. "(Kettina) was threatened to bring contraband into the jail and when he refused, our understanding is that his family ... and himself were threatened."
Kettina's attorneys also argued that Kettina has no prior criminal history, lives with his mother, has an expired passport and limited financial resources, all preventing him from being a flight risk while awaiting trial.
A second defense lawyer, Sheldon Sorosky, asked that Calabrese consider an alternative to holding Kettina without bail.
"This very well could be a second-degree murder situation," he said. "There isn't any doubt that the defendant is the person who fired the gun. But this could very well be a second-degree murder situation."
Ravin, stating the chain of events, said Asber had been working as a busboy at Miraj for two months before the shooting and arrived at the restaurant Saturday trying to pick up an additional shift.
Kettina arrived at Miraj at 8:30 p.m. with a friend and left around 10:30 p.m. before returning to the Miraj later that evening and taking Asber for a drive in Kettina's Jeep, Ravin said.
Kettina parked his vehicle in an alley behind Miraj and fired four shots from a Glock 17 at Asber as Asber was walking away from the vehicle, Ravin said. One bullet penetrated Asber's chest on the left side and passed through his lung, heart and other lung before exiting the right side of his chest, she said. Asber ran into Miraj's parking lot before collapsing.
Calabrese said that "given all the facts and circumstances as described, I cannot see this being a life sentence case."
"I do not know any judge ... that would sentence the defendant to life for this kind of circumstance, while it is a horrendous crime," he said.
According to an earlier statement from the Niles Police Department, law enforcement initially responded to calls of a person shot at about 1 a.m. Sunday.
They found a male with at least one gunshot wound in the parking lot of the nightclub, in the 8800 block of North Milwaukee Ave., and began lifesaving measures, according to a police news release.
Asber was later pronounced dead at a hospital, police said.
The Cook County sheriff's office issued a statement saying, "The sheriff's office is cooperating in any way it can with the investigation and would refer all questions to the Niles Police Department."
___
(c)2023 Pioneer Press Newspapers (Suburban Chicago, Ill.)
Visit Pioneer Press Newspapers (Suburban Chicago, Ill.) at www.chicagotribune.com/suburbs
Distributed by Tribune Content Agency, LLC.
McClatchy-Tribune News Service