Judge considers change of venue for 'El Chapo' trial
The defense argues that security measures used to transport Guzman from a jail in Manhattan to a Brooklyn courthouse create a public spectacle that's prejudicial
---
By Tom Hays
Associated Press
NEW YORK — Each time notorious Mexican drug lord Joaquin "El Chapo" Guzman appears in court in his U.S. case, authorities transporting him to and from jail shut down the Brooklyn Bridge to make way for a police motorcade that includes a SWAT team and an ambulance, all tracked by helicopters.
The intense security measures have become enough of a public spectacle that Guzman's lawyers are arguing it hurts his chances for a fair trial later this year in Brooklyn by prejudicing the jury pool. They say the solution is to move the case to a Manhattan courthouse that's connected to the jail where he's held in solitary confinement.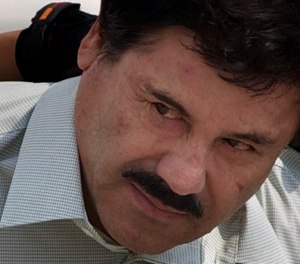 The current drill creates the impression "that his man is guilty, that this man is dangerous," defense attorney William Purpura said on Tuesday following a pretrial hearing.
At the hearing, U.S. District Judge Brian Cogan said he was still considering the change of venue that prosecutors say isn't necessary. He also has yet to rule on a demand by Guzman's lawyers that the government turn over evidence that could help his defense.
Some statements by witnesses "specifically indicate that Mr. Guzmán was not the leader, nor a leader, of the so-called Sinaloa Cartel or some other drug-trafficking organization," a defense filing says.
Guzman has pleaded not guilty to charges that his cartel laundered billions of dollars and oversaw a ruthless campaign of murders and kidnappings. He faces life in prison if convicted at trial, which is set to begin in September and expected to last several weeks.
Authorities have justified the tight security for Guzman by noting that he has twice escaped from prison in Mexico. The second time, it was via a mile-long (1.6 kilometer-long) tunnel dug to the shower in his cell.
Since his extradition to New York in January, Guzman has repeatedly complained about his conditions of confinement. He has claimed in a letter to the court that the light in his cell where he spends 23 hours a day is on at all hours, and that the temperature is either "too hot" or "too cold."
As a result, Guzman said he's had trouble sleeping, suffers constant headaches and vomits daily. "It is torture 24 hours a day," he wrote.
Asked on Tuesday if Guzman has been permitted to watch Mexico play in the World Cup, Purpura shook his head and responded: "No. He wishes."