How aid agreements assist correctional facilities during a disaster
It is important for institutions to understand the various aid external partners may or may not be able to provide
---
By Mandy Johnson
Prisons should continually practice emergency preparedness. Fire drills and prison evacuations may not be conducive to regular business operations, but protecting, preventing, mitigating, responding and recovering from disasters are paramount to accomplishing institutional emergency preparedness.
During an emergency, there are two lines of thinking: everyone will help, or no one will help. Emergencies are not the time to test those theories. Having a disaster response plan in place helps ensure an agency's response and recovery efforts is as effective as possible.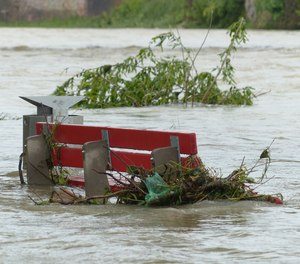 The Department of Homeland Security identifies and defines two types of agreements commonly used by two or more parties:
A mutual aid agreement (MAA) is an agreement to lend assistance across jurisdictional boundaries; this may occur when a disaster or emergency exceeds local resources.
A memorandum of understanding (MOU) is typically a non-binding agreement between two or more parties detailing each party's requirements and responsibilities to accomplish an agreed upon goal.
The primary difference between these two non-binding agreements is that an MAA specifies that aid will be provided to each other during an emergency. An MOU doesn't necessarily need to include reciprocated aid. This is very important to emergency preparedness within correctional institutions. The needs of jurisdictions and organizations vary; correctional institutions are exceptionally unique in that they must maintain their primary mission. Regardless of where you reside, the common theme among departmental missions is to provide community safety through secure incarceration.
Assistance restrictions in the correctional environment
The distinctive mission of correctional institutions greatly impacts the aid they are able to receive, but also puts them into a uniquely qualified position to provide a wide range of aid to external partners. It is important for institutions to recognize the various aid external partners may or may not be able to provide.
Local law enforcement have the skills and training to interact with offenders, but specific guidelines and policies mandate the custodial care of incarcerated inmates. Local law enforcement can provide aid to correctional institutions by manning towers, assisting with cell searches, conducting perimeter searches and searching for escapees.
Local fire departments are skilled and trained at fighting structural fires; however, the construction and structure of prisons and their occupancy type pose a threat that local fire departments would not face when responding to calls within the community. Fire departments can provide mutual aid by practicing with institutional fire departments and responding to fires outside the secure perimeter or within the secure perimeter when inmates have been secured elsewhere.
Community medical staff members have skills and training that institutional medical staff members have, except for the training on how to interact with inmates in a custodial setting. Local medical facilities and hospitals provide medical treatment to inmates; however, that treatment is often in the presence of a correctional officer to ensure the safety of the inmate and the medical staff. This is not a common practice in a community medical facility when treating community members. Outside medical assistance is, at times, necessary (e.g., permitting ambulances into the secure perimeter of the prisons), but personnel should always be escorted by correctional staff. Medical staff can also assist with triage and basic life support efforts at the onset of a disaster.
These examples demonstrate how aid from external agencies can face restrictions but is not impossible.
The need for MAAs and MOUs is vital to both the community and the prisons as such agreements encourage planning, communication and partnership. Potential partners should address respective capabilities, resources, equipment interoperability and needs. Recognizing needs may influence or impact the degree of aid a partner is able to provide. Understanding resources and capabilities of mutual aid partners prior to a crisis will assist with emergency preparedness.
---
About the author
Mandy Johnson has been in law enforcement for over 11 years as a crime and intelligence analyst. For the last two years, she has worked as an emergency services coordinator for the California Department of Corrections and Rehabilitation. She has a bachelor's degree in psychology and criminal justice, a master's degree in criminal justice, a certificate in crime and intelligence analysis, is FEMA COOP Level 1 Practioner certified, and is finishing an associate's degree in fire technology. She has worked at police departments, sheriff's offices, the California Department of Justice and the California State Threat Assessment Center (a federally recognized fusion center). She has also worked as a criminal justice college instructor. Her areas of expertise are prison and criminal street gangs, human trafficking and correctional emergency management.