About 200 Mass. corrections workers suspended over vaccine mandate
The state has fired 12 DOC employees so far
---
By Alison Kuznitz
masslive.com
        
BOSTON — Approximately 200 Massachusetts Department of Correction employees have been suspended without pay for not complying with Gov. Charlie Baker's COVID-19 vaccine mandate that required more than 40,000 Executive Department employees to be fully immunized by mid-October.
That's at least 50 additional suspensions from the state since Nov. 19, according to an earlier estimate shared with MassLive. At the end of October, fewer than 60 DOC employees had been suspended.
And so far, the state has fired 12 DOC employees — including correction officers, maintenance workers and recreation officers — for refusing to get vaccinated during rounds of 5- and 10-day unpaid suspensions, said Kevin Flanagan, spokesman for the Massachusetts Correction Officers Federated Union.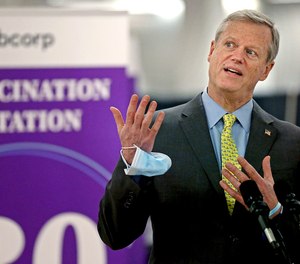 Flanagan told MassLive on Tuesday the tally of suspensions and terminations is expected to increase over the coming days, due to ongoing disciplinary hearings.
Yet it is difficult to pinpoint the precise number of Executive Department employees disciplined or fired, since some state workers are choosing to get vaccinated at the last minute to protect their income and pensions. Further complicating matters, union leaders say, is the slow pace of disciplinary hearings and limited information disclosures — including granular vaccination data for individual state agencies and departments — from the Baker administration.
Baker has repeatedly defended his vaccine mandate, calling it "perfectly appropriate" since so many state workers interact directly with the public. All vaccines administered in the United States are safe and effective at preventing severe coronavirus-related illness and death, top health experts and federal agencies say.
As coronavirus infections surge in New England and officials worry about the emergence of the new Omicron COVID variant, Baker doubled down on his plea Monday for Massachusetts residents to get vaccinated and boosted.
State officials last shared an update on Baker's vaccine mandate on Oct. 27. More than 94% of state workers complied with the order, though 362 employees were on the state's discipline track and 130 had voluntarily resigned. At the time, Massachusetts had fired 11 state workers.
The state began firing correction officers around mid-November, with their terminations taking effect on Nov. 12, MassLive previously reported.
"You were informed that if you failed to provide documentation of compliance by the end of your suspension, you would be subject to termination," DOC Commissioner Carol Mici wrote in the letter to now-former workers that was shared with MassLive.
Dozens of correction officers and other DOC employees sought religious or medical exemptions from Baker's mandate. The state initially granted some vaccine waivers over sincerely-held religious beliefs, MassLive previously reported, but later revoked them — stating those approvals were "issued in error."
Meanwhile, as of last week about 100 state troopers were still waiting to hear back on the status of their vaccine exemption requests, said Chris Keohan, spokesman for the State Police Association of Massachusetts. Keohan told MassLive Tuesday that disciplinary hearings are "happening in small sets of roughly 5 to 10."
A handful of state troopers were first suspended at the end of October, MassLive previously reported. The vast majority of troopers are also vaccinated, though 200 troopers sought religious or medical waivers.
©2021 Advance Local Media LLC.
McClatchy-Tribune News Service