COVID-19 outbreak at Wis. prison tops 260 active cases, DOC says
Kettle Moraine is the Wisconsin prison with the highest number of COVID-19 cases among inmates since the pandemic began in March
---
By Emily Hamer
The Wisconsin State Journal
SHEBOYGAN COUNTY, Wis. — A COVID-19 outbreak at Kettle Moraine Correctional Institution has exceeded 260 active cases, on top of another hundred inmates who have recovered from the contagious virus, according to Wisconsin Department of Corrections data released Monday.
The medium-security prison in Glenbeulah, between Fond du Lac and Sheboygan, had 267 active cases, DOC's data dashboard said. Another 101 inmates tested positive but have recovered, and an additional three tested positive but were released, according to DOC.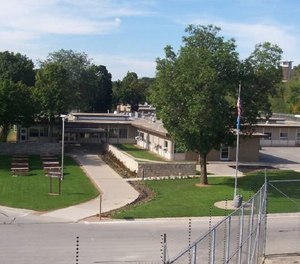 That makes Kettle Moraine the Wisconsin prison with the highest number of COVID-19 cases among inmates — a total of 371 — since the pandemic began in March. The institution also has the highest number of active cases.
All of the inmates who are actively infected with COVID-19 are being isolated. Those with symptoms are being medically cared for and those without are being monitored and will be treated as needed, DOC spokesman John Beard said. Many of those with active cases do not have symptoms, Beard said.
As of Monday, 36 DOC employees at Kettle Moraine had tested positive — including under 20 with active cases, who have been directed to self-quarantine at home.
In response to the outbreak, the entire inmate population is being quarantined, Beard said. As of Friday, Kettle Moraine had 1,108 prisoners.
With the help of the National Guard, DOC conducted mass testing Wednesday, with some results still pending, Beard said.
"Given the high number of positive cases returned and more still outstanding from the National Guard testing last week, and the fact they are spread among the housing units, the decision was made to quarantine all," Beard said.
Meals are being delivered to inmates' rooms, extra cleaning has been implemented, and phones and showers are used on a rotating basis, Beard said.
"Kettle Moraine does not have bathrooms in individual cells, so staff also is making sure to limit the number in shared bathrooms at once to maximize social distancing," Beard said.
The prison is streaming movies to provide entertainment for prisoners while their movement is restricted, Beard said.
The outbreak was discovered after some prisoners started experiencing symptoms in mid-September, Beard said. Kettle Moraine started doing limited testing and discovered an increasing number of positive cases, prompting them to call in the National Guard.
On Sept. 17, the prison had 77 active positive cases. Many of those inmates have already recovered. The 250 cases discovered on Monday were in addition to the initial burst of cases in mid-September. Beard said he couldn't say whether it was one prolonged outbreak or two separate ones.
"I cannot speculate on whether they are separate or related," Beard said of the infection clusters.
Other outbreaks
The infections at Kettle Moraine are the latest in a string of outbreaks at several Wisconsin prisons in recent months.
According to DOC's data dashboard:
Green Bay Correctional Institution has had a total of 304 positive cases among inmates, with 250 of those active on Aug. 24. Most prisoners have since recovered.
As of Monday, 291 of the Green Bay inmates had recovered from COVID-19, four had been released from prison and nine were still actively fighting the virus.
Dodge Correctional Institution also had a recent outbreak, with a peak of 89 active positive cases on Sept. 9. As of Monday, the maximum-security prison had had a total of 170 positive cases since the start of the pandemic, 134 of which were from inmates who had recovered and 36 of which were still active.
A recent outbreak at Racine Correctional Institution/Sturtevant Transitional Facility peaked on Sept. 8 at 68 positive cases among inmates. The facility has seen a total of 116 positive cases, with 108 prisoners recovered, seven actively fighting the virus and one released from prison, as of Monday.
On Aug. 31, New Lisbon Correctional Institution had 44 active cases. As of Monday, the prison had seen a total of 58 positive cases, four of which were active. The rest of the inmates had recovered.
The first major outbreak was reported at Waupun Correctional Institution in May and early June, when COVID-19 cases among prisoners reached 228 infections. All of those inmates have since recovered from the virus.
Others with active positive cases as of Monday included Gordon Correctional Center with 33 active cases and Oshkosh Correctional Institution with 17 positive cases.
Smaller outbreaks have occurred at Felmers O. Chaney Correctional Center, the Milwaukee Secure Detention Facility and the Milwaukee Women's Correctional Center, which have each had about 20 cases.
Nine other facilities have had five cases or fewer, and the other 17 DOC institutions have had zero positive cases reported.
©2020 The Wisconsin State Journal (Madison, Wis.)
McClatchy-Tribune News Service