Fla. gov. releases plan to allot millions for CO raises, facility and safety enhancements
The proposed plan also includes pay raises for inspectors and probation officers, while designating millions for infrastructure and equipment needs
---
By Ashley Silver
Corrections1
TALLAHASSEE, Fla. — Governor Ron DeSantis recently announced a plan to designate millions to provide police and corrections officers with an across-the-board raise and fund several other health and safety advancements in Florida prisons.
The new plan will increase the starting salary pay from $20 per hour to $23 per hour for correctional officers, inspectors and probation officers.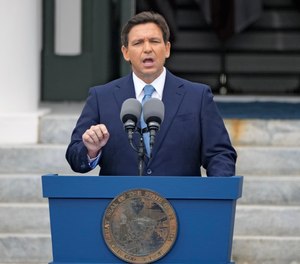 Over $1 million is being put toward parity pay for maintenance workers responsible for helping maintain appropriate sanitation levels within Florida prisons. In addition, $3.4 million will be utilized for a comprehensive retention plan geared toward experienced officers. It will ensure that senior officers are paid for their experience and provide new officers with an incentive to continue their careers.
In a news release this week, Florida Department of Corrections Secretary Ricky Dixon spoke about the significance of the new pay raises: "Governor DeSantis' recommendations further the tremendous momentum from last session; to address staffing, recruitment and retention. I want to thank Governor DeSantis for supporting the men and women working in corrections. They serve an important role in our law-and-order state by keeping dangerous criminals off the street and Florida communities safe. The governor's recommendations will provide the continuity of resources required to perform our public safety mission while also addressing the department's priorities of staffing, programming and infrastructure."
The largest monetary amount, set aside for facility improvements and infrastructure, will address the safety and security of the public, staff and inmates. Over $30 million will be set aside to tackle immediate needs including new construction, repairs and renovations, environmental deficiencies and security improvements.
The governor's plan dedicates $27.5 million to help build up the Inmate Welfare Trust Fund Authority for educational programming, substance use treatment, improved inmate health and to create opportunities for rehabilitation and restoration of inmates before their release.
Over $7 million will go toward the replacement of outdated fleet vehicles, with 67% currently exceeding lifecycle standards and needing replacement to ensure safe operation. A portion of the financial plan, $2.3 million, will be dedicated to providing state-issued firearms to all certified correctional probation officers, along with holsters and other public safety equipment.
In an effort to modernize the Offender Based Information System, $21.5 million will be designated for technology updates surrounding inmate management, classification, work assignments, disciplinary information and custody status.