Texas county jail says banning face-to-face visits 'inhumane'
Securus Technologies was seeking a contract with the Dallas County Jail, but the contract would have required the banning of face-to-face visits for inmates and their families
---
By C1 Staff
DALLAS COUNTY, Texas — A county jail in Texas has rejected the idea of video conferencing replacing face-to-face visits, calling the banning of face-to-face visits 'inhumane.'
Dallas News reports that Securus Technologies was seeking a contract with the Dallas County Jail, but the contract would have required the banning of face-to-face visits for inmates and their families.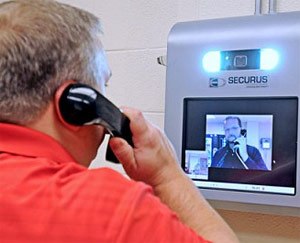 A ban on such visits allows the company to recoup expenses for installing the video visitation system.
It costs about $5 million to install the system, and then Securus would charge $10 for each 20-minute video chat. The jail would have received up to a 25 percent commission on those calls.
"It's a way to make money … off the backs of families," said County Judge Clay Jenkins, after finding out about the details of the contract. He was backed by inmates' rights advocates.
He also called eliminating the face-to-face visits inhumane.
A new contract under different terms is being sought, which allows five companies that bid on the original request to resubmit new proposals.
Jenkins continued, saying that most jail inmates are awaiting trial, thus legally presumed innocent, or have only been convicted of misdemeanors. Neither the county nor its private contractor should be looking to make money off of the inmates or their families, Jenkins said.
Commissioner Mike Cantrell said he thought the per-minute cost of the video chats was fair, and said the county spends $107 million a year to run the jail and brings in about $10.8 million in bond forfeitures, fines and other assessments on inmates.
But the commissioners were unanimous in not wanting to eliminate in-person visits.
"Many of these families don't have BlackBerrys, smartphones and computer terminals in their homes to allow for video visitation," said Terri Hodge, a former state legislator.