Disabled Calif. prison inmates want COs to wear body cameras
Lawyers have collected 100 declarations from inmates and hope to convince the state to make the department adopt a slew of new reforms
---
By Matt Kristoffersen
The Sacramento Bee
SACRAMENTO, Calif. — Advocates for disabled California prison inmates are asking the state to require guards to wear body cameras, citing dozens of new court declarations describing alleged abuses that they should compel the corrections department to carry out policy changes.
They filed the demand last Wednesday in a long-running lawsuit aimed at improving conditions for disabled inmates.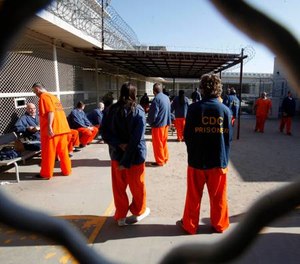 Lawyers involved in the suit say they've collected over 100 declarations from inmates across the state and hope to convince California to make the department adopt a slew of new reforms — including mandatory body cameras within 180 days, anti-retaliation training and a more robust system for tracking staff misconduct.
"Our goal is to stop the pernicious abuse of people with disabilities in the California prison system," wrote Gay Grunfeld, one of the lawyers who filed the motion, in an email. "But one reform is absolutely vital: transparency, through the installation of surveillance cameras and the requirement that body cameras be used."
The declarations, with inmate names redacted in court records to protect prisoners from retaliation, detail harrowing allegations of staff misconduct.
After waking up from a seizure outside his cell in the Richard J. Donovan Correctional Facility in early April, one 47-year-old inmate couldn't figure out why his wrists and ankles hurt so bad, according to his court declaration.
It was only when he reached a medical area that another inmate told him what happened, court documents allege. He was told officers had stomped on his ankles, stepped on his hands and dragged him out of his cell. His head, unsupported, hit the ground several times, he was told.
"I am terrified that officers are still acting with impunity even after I and other incarcerated people have spoken out about the staff abuse," the inmate wrote in his court declaration.
In a statement, CDCR spokeswoman Dana Simas wrote that the department was unable to comment on the specifics of ongoing litigation. But, she said, "we take the safety and security of inmates very seriously, and will be carefully reviewing the complaint."
The lawsuit, known as Amstrong v Newsom, was first filed in 1994, providing a venue for disabled advocates to keep tabs on prison conditions. It's unfolding in federal court in San Francisco.
Grunfeld and other lawyers involved with the suit say more needs to be done to protect these inmates — a population particularly vulnerable to retaliation.
It's not the first time that advocates or watchdogs have encouraged the corrections department to require officers to wear body cameras. In 2015, the system's Office of Inspector General wrote a report urging the department to create a body camera pilot program.
Since then, Office of Inspector General spokesman Shaun Spillane said that, to his knowledge, body cameras have yet to be introduced.
The corrections department declined to comment on its use of body cameras.
Earlier this year, the department developed a policy for its use of fixed audio-video surveillance systems. Several people who wrote to comment on its development questioned the use of fixed cameras and instead encouraged the department to use body cameras, according to administrative records.
The department in response said "recording technology is necessary and provides the department supporting evidence to make impartial decisions of the actions of involved persons."
The department did not comment directly on whether it supported body cameras.
In February, the lawyers for disabled inmates filed a motion requesting the Corrections department to introduce more cameras, anti-retaliation training and other measures at San Diego County's Richard J. Donovan Correctional facility following reports of abuse and mistreatment against inmates with disabilities.
Inmates' statements attached to that motion allege that correctional officers have thrown them out of wheelchairs, punched deaf prisoners and fostered a hostile climate that discourages disabled inmates from asking for assistance.
They gathered more declarations from the San Diego prison after that filing. Nearly 40 inmates at other prisons in the state have also sent in declarations.
This new filing broadens the February motion to cover facilities across California — not just the Richard J. Donovan prison — and asks that the Court order the CDCR to develop a plan to stop the alleged abuse within 30 days. Both motions have hearings scheduled on July 21.
———
©2020 The Sacramento Bee (Sacramento, Calif.)
McClatchy-Tribune News Service