Fla. to offer corrections officer training to separating, retiring military personnel
The partnership between Veterans Florida, the Florida Department of Corrections and the U.S. Department of Defense is the first statewide training program in the nation for service members
---
By Sarah Calams
TALLAHASSEE, Fla. — A new partnership between Veterans Florida, the Florida Department of Corrections (FDC) and the U.S. Department of Defense (DoD) will train active-duty military personnel leaving the armed services for a correctional officer career.
The DoD's SkillBridge program will allow members to gain civilian work experience, including industry training, apprenticeships or internships, during their last 180 days of service, Northwest Florida Daily News reported. Personnel from any rank and branch are eligible to participate and keep their DoD salary benefits during the training period.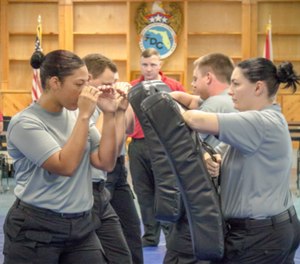 The partnership, according to the report, is the first statewide training program in the U.S. for separating or retiring service members interested in pursuing a corrections career.
"Our partnership with FDC offers transitioning service members a unique SkillBridge opportunity to continue serving in Florida after they are out of our military," Joe Marino, executive director of Veterans, said. "Veterans are a natural fit, and the FDC SkillBridge internship will maximize their transferable military skills and bolster Florida's corrections workforce."
The FDC SkillBridge internship is a 12-week program and, upon completion, participants can apply for employment at any FDC facility. They will also be eligible for hiring incentives and bonuses, according to the report.
"We are a proud employer of thousands of current or former active-duty military personnel," FDC secretary Ricky Dixon said. "Their service and dedication to this country and our state is truly remarkable. We welcome these brave men and women to join an agency that values their prior service and look forward to this opportunity."