Best tips for purchasing correctional officer duty boots
Duty boots are as important as a stab-proof vest; a poor pair of shoes can not only cause injury but also impair safety while on the job. Here's what you need to know when purchasing a good pair of duty boots.
---
Pounding the pavement for 12 hours at a time can take a toll on any correctional officer's feet. Comfortable duty boots that are able to withstand the mileage of the job and keep an officer's feet safe from injury and impact are a necessity to any correctional officers' duty uniform.
In 2012, the Bureau of Labor Statistics released an update of their findings which detailed a census with a shocking count of 2,986,500 non-fatal on the job injuries. Included in report were cases involving falls, sprains and strains that lead to missed days from work. Practical footwear is a must for workplace safety and should include protection of the feet and toes, with traction and stability for use on a variety of surfaces and environments.
Duty boots are available in a wide range of styles, colors and materials. Generally the upper portions of boots are constructed with leather and nylon, while soles are made of polymer and rubber. Most uniform stores carry a full line of duty boots suited for everyday wear in a variety of working environments. Knowing your work environment, uniform requirements and personal foot structure necessities will make your duty boot selection easier.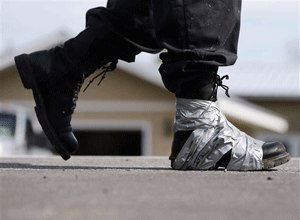 Types of boots
Tactical boots are generally categorized into three main groups which include:
casual wear,
military personnel and
law enforcement officials.
Most law enforcement officers, including correction officers, require strong, reliable, comfortable, durable and flexible tactical boots that can endure harsh conditions and uneven terrains.
Tactical boots are manufactured to withstand extreme weather conditions and surfaces such as mud, water and chemical exposure. Many models come fully insulated and waterproof.
Key features
Many tactical boots have additional features. For example, some tactical police boots include a hidden pocket inside which can be used to conceal a cuff key or other small equipment item that may provide useful should you be in a compromising situation while on duty.
The appearance your of duty boots is important. Tactical boots offer either a side or front zipper closure with an overlaying lace up design to adjust the fit.
Another option available on a tactical duty boot is the size of the outsole. Tactical boots are constructed with various lug sole patterns and thicknesses which result in differing grip levels depending on your work surfaces. Lug patterns on outsoles can shed water, resist slippage and provide maximum surface contact. They can appear very bulky or streamlined but still provide ease in mobility and maneuverability of your feet.
Fit and comfort
A pair of quality tactical boots is constructed by taking into account the best type of padding, cushioning and inner soles. A full cushioned foot bed with shock absorbing pads can prevent foot pain and fatigue at the end of a long work day. Duty boots must rest your feet while standing all day or all night. Additionally, a flexible boot sole can assist in safety and durability on rough surfaces. A comfortably fitted insole on a pair of boots can prevent blisters and discomfort from chafing, even when the pair is brand new and not yet broken in.
When shopping for a new pair of duty boots, bring a pair of socks that you can wear in your new boots while on duty. Additionally, it's suggested that you try on boots in the afternoon or early evening hours, as feet and legs swell throughout the day, especially when standing for long periods of time.
When purchasing a pair of tactical duty boots, know that you get what you pay for. Low quality boots may result in the need for replacement within just a few months given the demands of the job of a correctional officer. Working long hours while wearing poor quality footwear may also result in low back, knee and foot injuries. Doing your research in determination of the requirements of both your work environment and personal needs will play a major component when it is time for the purchase of quality duty boots.