PRESS RELEASE
Briarwood products prison safe shank-free and metal free toilet bowl brush
---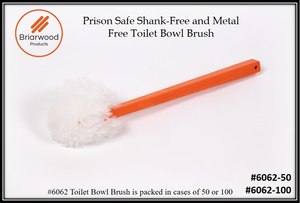 CLEVELAND – After much anticipation and correctional facility requests, Briarwood Products has released their prison safe shank-free and metal free #6062 toilet bowl brush. The handle of the brush is made from a specialized plastic that is unable to be sharpened into a weapon. The anti-acid head of the toilet bowl brush as well as the handle eliminates the growth of bacteria and mildew. Standard hard plastic toilet bowl brushes which are currently being used in correctional facilities today are being tampered with and made into deadly weapons. Briarwood Products toilet bowl brush eliminates an inmate's ability to break or sharpen the handle, increasing the overall safety within the facility. As test samples have been sent to facilities across the United States, the feedback has been remarkable. One facility stated, "I am really impressed with this product. The toilet brushes are holding up well" – Anonymous.  
All correctional facility products manufactured by Briarwood Products are made in the United States and have reportedly reduced the assault rate within correctional facilities by 40%.

Request more info from Briarwood Products, LLC
Thank You!