'DroneShield' helps prisons know what's coming
DroneShield sends alerts via email or SMS to a 24/7 monitoring service that works with police and legal response teams
---
By Ashley Garst, C1 Associate Editor
Drones are continuously presenting a threat to prisons by attempting to smuggle in contraband ranging from drugs to cell phones. One company is presenting a solution to help correctional facilities look ahead to stop threats from the skies.
DroneShield is a small device that can be mounted near exterior and interior perimeters. The device sends alerts via email or SMS to a 24/7 monitoring service that works with police and legal response teams.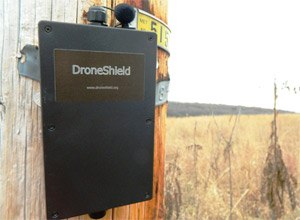 "My co-founder bought a drone to inspect the roof of his townhouse, and the first time he fired it up, it went into the backyard of his neighbor's house," said Brian Hearing, co-founder of DroneShield, when speaking about how they got into the drone detection business. "He was able to see everything. So there were some privacy issues there. So we started a crowd funder."
The patent-pending acoustic detection technology results in high detection rates with low false alarms and is able to detect drones without RF links or that are invisible to radar, like small, plastic drones are.
According to Hearing, depending on the type of drone, the device can detect an incoming drone from up to 150 yards away. It's easy enough to install that the facility could buy the device outright and handle all the monitoring themselves.
"You can mount it to your perimeter and supply it with power, connect it to Wi-Fi or Ethernet and that ties back into the command center," Hearing said. "There's a little bit of wiring, but it's something an average IT professional could handle."
The company also offers a managed system where they can do all maintenance remotely and quickly.
"It's a cheaper and better system. We would be involved 24/7 looking at data, looking at false alarms," Hearing said, which could be helpful for facilities with staffing issues.
The device is loaded and updated with a signature database of drone models commonly used by smugglers to get contraband inside facilities, ranging from hobbyist to commercial-grade drones like the Cinestar 8. This also helps the device to ignore common sounds like lawn mowers and leaf blowers.
The device promises advanced warning of drones used by smugglers and other unauthorized operators, is best for centralized facilities or perimeter monitoring, and integrates easily into existing zone-based alarm systems with dry contact relays.
All data the device collects is saved for subsequent legal proceedings.
While the detector can only detect drones and not stop them, the company does have options for pulling drones out of the air.
"We promote a net gun, an air-powered gun that shoots out a net," Hearing said. "It isn't lethal, doesn't damage the drone, and can preserve it for forensics. Another solution we have is a strobe-like item, which would mess up a drone's camera. Those are the only two legal things at present that are effective."
Currently, the DroneShield drone detector has pilot installations in close to half a dozen facilities around the world.
"A lot of prisons are interested in it," Hearing said. "We go to ACA, conventions; we get a lot of interest there. It's really been word of mouth.
"We've been really happy with the response. Things are taking off."
Currently the company is focusing on integration with current systems, but for the future they're hoping to expand the number of drones their system can detect.
For more information on Drone Shield, check out their website.