Pa. county prison disinfecting cells, water pipes after Legionnaires' case
Former inmate tested positive for Legionnaires' disease two-days after transfer from county prison to state prison
---
By Tom Lisi
LNP
LANCASTER, Pa. — Trace amounts of the bacteria that cause Legionnaires' disease were discovered in a Lancaster County Prison sink Monday after state prison officials notified the county that a person who had recently been transferred out of the county prison tested positive for the disease.
County officials today plan to disinfect water pipes and some cells at the prison after the discovery of Legionnaires' bacteria in the sink of the prisoner's former cell.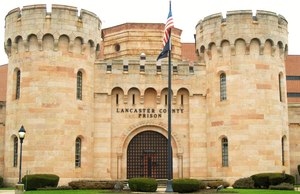 Legionnaires' is caused by a bacteria found in water. According to the U.S. Centers for Disease Control and Prevention, the bacteria can become a health problem when they spread in plumbing, from showerheads to water heaters. Infections typically occur when a person inhales water droplets containing the bacteria.
On Tuesday, county prison Warden Cheryl Steberger said in an email that the prison is following recommendations from the Pennsylvania Department of Health, which means testing individuals only if they show symptoms. "At this time, neither staff nor inmates are displaying symptoms," she said.
That includes individuals who stayed in the cell that housed the infected individual, Steberger said.
Prison officials ordered testing to be done in areas of the facility after state authorities notified them Aug. 11 that an individual who had recently stayed in the county prison had tested positive for Legionnaires' disease two days prior. The individual was tested at a state prison after being transferred from the county July 26, according to a county news release.
On Monday, prison officials received a positive test result from the sink in the former prisoner's cell, according to the release. The prisoner was staying in a cell in the medical housing unit, where all cells will be disinfected along with all water lines.
The individual who contracted the disease has since made a full recovery, according to county officials.
County workers today will sanitize the prison's water system with an injection of chlorine, according to the release. While the work takes place, people in the medical housing unit will be moved to another unit with the same accommodations.
The prison also has installed new water filters and sanitized ice machines, and it will superheat water heaters to kill off any remaining bacteria.
Steberger said in the release that she's confident county staff will be able to handle the matter. "This issue highlights the continued challenges we face with the existing facility, some parts of which were constructed in the 1850s, and the importance of the steps we are taking to construct a new, modern facility."
___
(c)2023 LNP (Lancaster, Pa.)
Visit LNP (Lancaster, Pa.) at lancasteronline.com
Distributed by Tribune Content Agency, LLC.
McClatchy-Tribune News Service