Broome County Jail settles lawsuit with trans woman, agrees to new policies
Broome County Sheriff says the agreement establishes "clear LGBTI Guidelines, which were previously nonexistent"
---
By Muri Assunção
New York Daily News
BINGHAMTON, N.Y. — A Black transgender woman who said she suffered abuse, mistreatment and denial of medical care at the Broome County Jail in New York has reached a landmark settlement seen as "one of the strongest policies in the country" to protect trans people in custody, her lawyers said.
Makyyla Holland of Binghamton, N.Y., sued county officials early last year alleging she had been repeatedly discriminated against because of her gender identity during the six weeks she spent under Broome County custody in early 2021.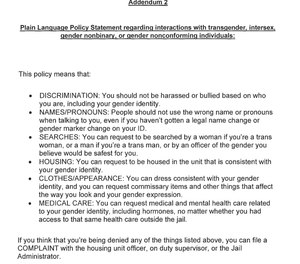 "I was harassed, mocked, misgendered and worse: jail staff strip-searched me, beat me up, placed me in the male section of the jail, and withheld my hormones for a period of time, forcing me to go into agonizing withdrawal," Holland told the Daily News in March 2022.
Holland, who was diagnosed with gender dysphoria and had been on hormonal replacement therapy for about five years before she was taken into custody, said she also asked correctional officials to protect her from threats she received at the facility, but her pleas for help were ignored, according to the lawsuit.
On Thursday, lawyers representing the 25-year-old training nurse's assistant announced she reached a landmark settlement with the south-central New York county.
Under the agreement, county officials have committed to implement a "wide-sweeping" policy to affirm the rights of trans, nonbinary and intersex people in custody.
That includes conducting searches and housing trans people in units consistent with their gender identity "with limited exceptions;" ensuring that correctional officers respect a trans person's gender identity, including the use of pronouns and names; guaranteeing access to medical care free from discrimination; and facilitating access to gender-affirming items such as binders and wigs.
Holland will also receive $160,000 in compensation.
"No one should ever have to go through what I went through at the Broome County Jail and I am so grateful that with this new policy hopefully no one else ever will; this is a great outcome," Holland said in a statement shared with The News. "This policy and policies like it can impact a lot of my community, and I will continue to fight to ensure that no other trans person in New York or anywhere has to endure what I did."
Holland was represented by the New York Civil Liberties Union (NYCLU), the Transgender Legal Defense & Education Fund (TLDEF), and the private law firm Paul, Weiss, Rifkind, Wharton & Garrison.
Shayna Medley, TLDEF senior litigation staff, celebrated the agreement, saying the new policies will "better protect transgender people's safety while in custody."
"At a time when trans people are increasingly under attack across the country, it is even more important for states and local governments to affirmatively protect trans people in custody," she said.
Broome County Sheriff Fred Akshar said he was "pleased" to reach an amicable agreement that establishes "clear LGBTI Guidelines, which were previously nonexistent," while noting the agreement settles a lawsuit filed before he was elected sheriff.
-------
©2023 New York Daily News.
Visit at nydailynews.com.
Distributed by Tribune Content Agency, LLC.
McClatchy-Tribune News Service