Giving inmates the skills to clean up at work and in life
Janitorial vocational classes at Maleng Regional Justice Center offer inmates the possibility of a good wage and a good life once they've done their jail time
---
Reprinted with permission from the King County Dept. of Adult & Juvenile Detention InDepth Newsletter
By Linda Robson
"I'm grateful. Truly grateful."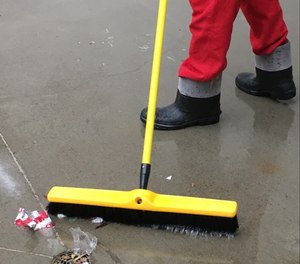 "I feel like being here is kind of a blessing in disguise."
"Extremely grateful."
"I really feel blessed to be here."
It was still early on a Wednesday morning, but the face of every inmate-student in Martin Douthit's janitorial class was alert, intent, focused and full of emotion.
When asked about their experience in Douthit's class, every inmate who spoke started and ended with words of gratitude. And even those too shy to speak nodded in wholehearted agreement.
To each of the 15 men present that morning, this class was certainly more than just a diversion, and even more than a chance at a new vocation. What Martin Douthit's class really offers King County Jail inmates is a feast for the mind, the body, the heart and the soul.
"Really what I do, it's a conduit for everything in life. So, you know, changing lives with mop handles, in a way," said Douthit, a man with glinting eyes and a wide smile hiding just a bit under a thick mustache. His friendly voice and relaxed and inviting manner immediately puts anyone at ease, and it's a demeanor and approach that's keenly appreciated by his students at the Maleng Regional Justice Center (MJRC) in Kent, Wash.
"Some people think that teaching or running a class is about control. With him, it's not about control, it's about advice and respect," said Kenneth, one of Douthit's inmate-students. "The way he teaches – it's like he's in this with us."
Make no mistake, the 10 week course Douthit teaches is intensive, hands-on and demanding. The inmate-students are up at 6:30 a.m. each work day, and even when the work is done, they eat, sleep and live together 24 hours a day in the same unit.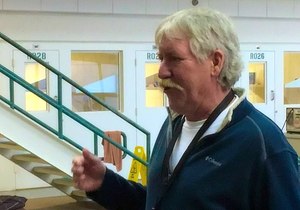 "I tell 'em, 'it's amazing, you guys work together, then you go back to the unit together, and then you wake up together, and we all don't get along,'" says Douthit. "But just like in our workplace, we have to be professional to each other and do our jobs, and I tell them the same thing. We don't all get along. Don't look at me like I get along with everybody. But I go to work, I'm professional, and I keep my positive attitude."
In fact, even before the basic cleaning skills and safety techniques are taught, the first unit in Douthit's curriculum, called Human Relations/Employment Skills, lays the foundation with the students and teaches them how to communicate with co-workers and supervisors, and the importance of having a good work attitude.
"Just like any vocational setting, it's a job, so you're expected to act like you're on the job in the community. So all those behaviors that you might find in a jail setting, they're not acceptable in the classroom setting, just like they wouldn't be at Renton Technical College," says Douthit. "For those six hours, they're not inmates, they're students of Renton Technical College, and I'm their instructor. So they can step away from incarceration, and for those six hours, there's no jailhouse BS, there's no cussing, there's none of that incarcerated behavior, and that's what really changes these guys' lives."
There's a reason this aspect is the first thing they tackle in class. Without a fundamental change in attitude, the inmate-student is not likely to succeed.
"I see a big change in attitude when you compare the before and after. It restores something they were definitely missing out on the street," said Officer Bryan Davies, who has worked with Douthit for about six years at the Maleng Regional Justice Center (MRJC), and is also a member of the Board of Advisors for the program at Renton Technical College. "You've got to change that mindset," Davies said.
Douthit's approach clearly resonates with the students. They not only adopt the same mindset early on, some were drawn to the program specifically because they could see it in the demeanor of the other inmate-students.
"When I watched other people doing the work and the program... it's as if they weren't in jail," said one participant. Another said concentrating on the program and the work helped alleviate the pent-up emotions of being in jail, saying, "Getting out and working relieves that stress and depression."
An inmate-student named Kenneth even highlighted it as perhaps the most important aspect of the whole course. "You lose the basic structure of how to live in society. Getting up in the morning, having responsibility. You know, I can make responsible decisions. I've done that in my life. But maintaining that responsibility… I'd lost that," said Kenneth. "Here, you function like an adult."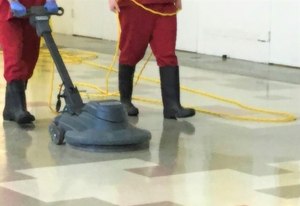 One might think the hard work of cleaning up after other people day in and day out would be a turnoff at best for Douthit's students, but Cmdr. Corinna Hyatt at the MRJC facility reports that it's quite the opposite. "I think, to the credit of the program, it's not something that they want to be sanctioned or taken away from them," Hyatt said. "It's a big carrot."
Officer Davies, who works one-on-one with the program participants, says, "These guys are the least likely to cause problems in the facility."
And for Douthit, he has all the proof he needs that his approach works. "In 20 years, we've never had a fight in this program. And that's amazing," Douthit says. "So, you know, working through those personal issues is another thing they learn – choices and consequences, and working those problems out."
Even though Douthit's program cuts much deeper than strictly vocational skills, the janitorial skills training is rigorous, and the bar for students is set extremely high. Douthit's goal: "That they will be the best custodians, and the work that they do downstairs is unparalleled to anybody on the outside."
DAJD staff members would give Douthit's students an A+ for the quality of their work.
"The quality of their work on advanced tasks, like the concrete grinding and finishing, stripping and waxing and polishing the tile floors – the quality of their work is exceptional," Officer Davies said.
Even the students are aware of how valuable their training is, and that it holds the possibility of a good wage and a good life once they've done their jail time.
"The concrete grinding and polishing stuff he's teaching us, that kind of teaching can get us good jobs in construction right now," said Clarence, one of Douthit's current crop of students.
And Clarence has every reason to hope for the best when he leaves with his certificate – 70 percent of Douthit's students successfully complete his program, and of those graduates, about 40 percent are known to be employed in some fashion once they leave jail.
"Now whether or not that's in the custodial field," says Douthit, "that's not a big concern of mine, because if they get out and this has been a positive, then they use those skills to move on."
While 40 percent may not sound significant, it roughly compares to the employment rate of other vocational programs – and those students aren't carrying a criminal history with them.
"I think 40 percent is significant," said Cmdr. Hyatt.
"Forty percent is better than what we started with," said Officer Davies. "Forty percent is better than zero percent!"
Even for those who may not immediately find a job, there's still a return on the investment they make in the program.
"To finish it – you know, some of them have never finished high school, haven't finished anything in their lives, so it's a great sense of accomplishment and a huge stepping stone," said Douthit. And that sense of pride and accomplishment sticks with them when they go back to the community.
Without looking at hard numbers on a sheet of paper, staff members like Officer Davies can still tell Douthit's graduates are far less likely to return to jail.
"I see a lot of the janitorial program guys don't return as much. I don't see those faces around. And believe me, you get pretty good at recognizing faces, especially when it's only a matter of weeks," said Davies.
Noting that the vast majority of inmates in the jail only stay a handful of days or weeks, Cmdr. Hyatt posits, "Do they [the public] want them coming back into their community with some life skills, and a bigger picture, and some hope, and some confidence – you know, things that they can use to be a better citizen and hopefully stay out of the jail?"
And the inmates themselves know all too well what's at stake.
"I wanted to do something different," said Lammarryus, "I don't want to be a part of the recidivism rate, you know? I'm not about that in my life anymore," he said as he raised his voice slightly, straightened his shoulders and gestured with his hand in one swift motion, as if he was pushing aside his old bad habits to clear a new path for himself.
And the positive impact of the program grows exponentially when you consider the other lives that are involved.
"For one person I turn around, there could be 20 affected," Douthit said. "For every person I turn around, there could be a child, a mother. A person's car is not getting stolen, a person's house is not getting broke in [sic], there's gonna be no assault. I could give a whole litany of what could happen if someone just keeps coming in and out of jail, in and out of jail, without these life experiences and the things I'm teaching 'em."
Officer Davies points to the flip side of the equation. "You can spend the money here, or spend four times as much on the street, more than four times as much. Think about it – medical, police patrols, fire services, insurance claims…this is a drop in the bucket."
And the best news of all? The drop in the bucket that pays for Douthit's program comes from the Inmate Welfare Fund, not the jail's general fund, so the inmates truly are re-investing in themselves and their future.
But after 20 years of teaching this course at MRJC, what is it that keeps Martin Douthit coming back?
"Who can change lives? Who can go to work and actually change lives?" said Douthit. "You know, I'm no different than my colleagues at Renton Tech. They do the same thing, except I'm working with the people who really need that change in their lives. So it's rewarding."
Douthit occasionally encounters a former inmate-student out in the community, and the reaction is almost always the same: "He's there with his family, with his kids, and I get a big hug. And it's not me, it's him – he did all the hard work. But, that means more to me than any paychecks in a lifetime, to see, wow! He's done it. He's happy, he's clean, he's working."
After 20 years, the letters from former students singing the program's praises continue to pile up, but Martin Douthit never tires of them. They're the proof that he's made a difference. One inmate-student named Josh was so moved by the opportunity to contribute to this article, he penned a two-page letter explaining how Douthit and his program have lit a path for him at one of the darkest points in his life.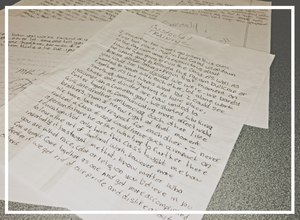 Josh cuts an intimidating profile at first glance. He's a fit man with angular features, piercing dark eyes, and a thick armor of heavy black tattoos covering his entire body, including his neck and scalp. Yet his voice waivered slightly under the weight of emotion as he began, saying, "Opening up right now is a testament to the trust and respect that I have for these guys," as he looked at each of his classmates.
Josh prefaced his letter by talking about how so many of the people he loved and cherished in his life have died, revealing the most intimate details of the emotional wounds that spawned his addiction and subsequent criminal behavior. He lost his young daughter to leukemia, and his mother to cancer shortly after. But when the mother of his child took her own life earlier this year, the "adult-size amount of love loss" was too much to bear, and Josh fell back into the dark hole of addiction he'd struggled against for many years.
But for all that Josh has suffered and experienced, the light and hope expressed in his letter is unequivocal. He writes, "I've only been involved with the class for two weeks and this is easily the most collected that I have felt in a really long time."
"I get to wake up every morning on a mission… acquiring different tools and techniques in the custodial arts five days a week, giving me back an element of purpose, knowing that I'm participating and investing in something worthwhile."
"I have already witnessed growth amongst my fellow classmates. Watching everyone come together and work as a team has definitely been inspiring."
"This will undoubtedly be one of those experiences that I end up cherishing always!"
Josh's story is poignant and heartfelt, but certainly not unique. Every 10 weeks, Martin Douthit gathers a new group of men just like Josh – men of different backgrounds, religions and races, different prejudices and different opinions. "It's just amazing to take 15 people, all of them incarcerated and all of them from different backgrounds, and to pull 'em together like that – that's one of the things I love about my job, is that challenge," says Douthit, "It's just watching a little miracle. So, you know, if you can get up and go change someone's life, what more could you want?"
---
About the author
Linda Robson is a communications specialist with the King County Dept. of Adult & Juvenile Detention in King County, Washington.