Confessed Minn. killer to be sentenced for boy's death
In return for leading authorities to Jacob's body and confessing what he had done, Danny Heinrich will not be charged with Jacob's murder. (Photo/Sherburne County Sheriff via AP)
---
By Mary Divine
Pioneer Press
MINNEAPOLIS — In a federal courthouse in September, Patty and Jerry Wetterling sat in the front row and cried as they listened to what Danny Heinrich said he did to their 11-year-old son Jacob on the night he was abducted and killed almost three decades ago.
On Monday morning, Heinrich is expected to hear from the Wetterlings for the first time.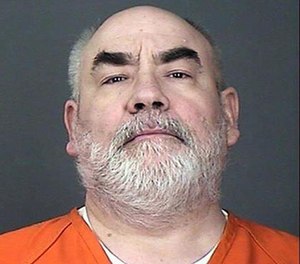 Patty and Jerry Wetterling and their surviving three children, Trevor, Amy and Carmen, have submitted victim-impact statements to be read at Heinrich's sentencing in U.S. District Court in Minneapolis, said Doug Kelley, the family's attorney.
"I don't know who is going to say what," Kelley said in a phone interview Thursday. "Some may read from the statement in court, others may speak extemporaneously."
Heinrich, 53, of Annandale confessed in court to abducting, sexually assaulting and fatally shooting Jacob on Oct. 22, 1989. In chilling detail, he described taking Jacob at gunpoint less than a mile from his home in St. Joseph, Minn., and driving him to Paynesville, Minn., where Heinrich was living at the time. At a spot near a gravel pit, Heinrich forced Jacob to undress and sexually assaulted him. He said Jacob cried after the assault, told him he was cold and asked to go home.
Heinrich said that he panicked after a police car drove by and that he shot Jacob twice in the head. He said he left Jacob's body at the scene, came back an hour later and buried it. A year later, he said, he moved the body after he returned to the scene of the crime and could see that Jacob's jacket had begun to show through the dirt.
In an interview with the Pioneer Press last month, Patty Wetterling said she wanted to ask Heinrich one question: Why? She declined to be interviewed last week.
"We know what happened and when and where, but we don't know why," Wetterling said in the interview. "As a rational person, you try to figure it out, but this one you can't, because it makes no sense."
Authorities, searching for ties to Jacob's disappearance, found hundreds of photos and videos of young boys during a search of Heinrich's home in July 2015. The images spanned decades, but photos of Jacob were not among them, investigators said.
Heinrich was arrested in October 2015 and later charged with 25 counts of possessing and receiving child pornography.
Heinrich's confession came as part of a plea agreement offered by prosecutors and agreed to by the Wetterlings. Heinrich agreed to plead guilty to one count of child pornography. In return for leading authorities to Jacob's body in August and confessing what he had done, Heinrich will not be charged with Jacob's murder.
Instead, U.S. District Judge John Tunheim will sentence him to 20 years in federal prison on the child-pornography charge. He will spend at least 17 years in prison at a location that won't be made public until after he arrives there, said Justin Long, a spokesman for the Federal Bureau of Prisons. There is no parole in the federal system; all federal prisoners must spend a minimum of 85 percent of their sentences behind bars before being eligible for release.
"In a perfect world, you would love to have more time for the crimes that Heinrich has committed," attorney Kelley said. "We don't live in a perfect world, though. With the cards we were dealt, at the time we were making the decision, for the Wetterlings, I think, having an idea and knowing what happened to Jacob was worth giving up time for them.
"They were clear in that decision," he said. "I recommended that to them, and I don't think they ever looked back on it."
What led to this point
Kelley said he received a phone call from U.S. Attorney Andy Luger on Aug. 29 requesting a meeting with the Wetterlings. "I sensed something big was happening, so I just got in my car and drove up (to St. Joseph) and knocked on their door," he said.
Kelley said he had previously explained to the couple that they might be confronted with a deal "where you'll have to give a little time away for Heinrich in order to get information."
"Patty and Jerry were uniform … and have maintained it ever since, that they were more interested in information than they were in retribution," he said.
The next day, the Wetterlings met with prosecutors and law enforcement officials to discuss the plea agreement. "The hardest decision was that Stearns County had to agree not to prosecute for murder," Kelley said. "Obviously, that's something that you want to think about long and hard."
Kelley said he asked Stearns County Attorney Janelle Kendall if she had a prosecutable case against Heinrich for Jacob's murder. "Janelle answered candidly and said 'No, not even close,'" he said. "We said, 'Do you have anything to make you think there is going to be some kind of break in the case?' She said, 'No, there's none.'"
Kelley said he told the Wetterlings that since there was "no murder case, there's really nothing that you are bargaining away."
"When you saw that after 27 years, they didn't have a prosecutable case, it really wasn't a hard decision to say, 'OK, so how many years would he get under sentencing guidelines just on the pornography case?'" he said.
Kelley praised Kendall for agreeing to have federal authorities charge Heinrich. Kendall knew that the U.S. attorney's office "would be able to exact a much greater sentence and, thereby, have more leverage over Heinrich," he said.
On Labor Day, just a few days after Jacob's body had been identified, prosecutors and law enforcement officials met with the Wetterlings to share the horrifying details that would later be revealed in court by Heinrich.
"It was really hard, but I think they needed to have that preview," Kelley said. "That allowed them then to hear about it without making (Heinrich's testimony in court) be the absolute first time."
Under the plea agreement, Heinrich also had to confess in court to kidnapping and sexually assaulting 12-year-old Jared Scheierl in Cold Spring, Minn., on Jan. 13, 1989, nine months before he abducted and killed Jacob. The statute of limitations has expired in that case, meaning Heinrich can't be charged in it.
In court, Heinrich told of "driving around Cold Spring, looking for a child." Heinrich said he noticed a boy walking down a dark street about 9 or 10 p.m., and asked him if he knew "where the Kramers lived."
Heinrich said he threw Scheierl in the back seat and sexually assaulted him. He said he then let him go, telling "him to run and not look back or I'd kill him." He said he kept Scheierl's underwear and pants as a souvenir.
Retested DNA evidence last year linked Heinrich to Scheierl's kidnapping and sexual assault. Authorities said they had long suspected a link between the two cases, leading them to circle back to Heinrich.
Heinrich had been questioned by police in 1989 and 1990 about Jacob's disappearance but denied any involvement.
The Scheierl abduction was part of the so-called "Paynesville Assault Cluster" — eight attacks on seven boys from 1986 to 1988. The victims were about the same age and gave similar descriptions of their assailant. Each said his attacker wore a mask and threatened him with violence.
Hearing Heinrich talk in court about the kidnapping and sexual assault was hard, but "Jared has been remarkable, and he's resilient," Kelley said.
"It gives him solace that he was one of the ones, that with his untiring efforts to continue to connect the dots, that led to the DNA and that led to the child-pornography charges," he said. "That has helped him tremendously."
Scheierl also has submitted a victim-impact statement and plans to read it in court, Kelley said.
Scheierl filed a civil suit against Heinrich in Stearns County District Court in early May, just a few weeks before the May 25 deadline for the Minnesota Child Victim Act, which lifted the statute of limitations for people who say they were sexually abused, said Kelley, who also serves as Scheierl's attorney.
According to the lawsuit, Scheierl has suffered pain, emotional distress, loss of self-esteem and psychological injuries since he was kidnapped and sexually assaulted.
The lawsuit against Heinrich, who is being held in the Sherburne County Jail in Elk River, is still "active at this time," Kelley said. "We will have to evaluate after all is said and done what we will do with it."
As part of his plea, Heinrich has acknowledged that he could be civilly committed as a sex offender, perhaps indefinitely, after he serves his criminal sentence. The plea agreement spells out in graphic detail what Heinrich did to Scheierl so "all of those facts will be available to the committing authorities," Kelley said.
"I think Danny Heinrich will be viewed, even in 20 years, as one of the most hard-core people who would be eligible for that program," Kelley said. "There are no guarantees, but nonetheless, I believe that the probabilities are that he will never see the light of day."
What's next
Heinrich will have 14 days to appeal his sentence after Tunheim files the judgment and commitment order against him.
If Heinrich does not appeal, the Jacob Wetterling files will become public under the Minnesota Government Data Practices Act.
Kelley said it could take some time for the Stearns County sheriff's office to make the files ready for public review. Juveniles' names, social security numbers, bank account information and credit card numbers will have to be redacted, he said.
"If you think about it, there are 27 years' worth of law enforcement files there," Kelley said. "I'm told there are some 37,000 pages of documents. There are 80,000 lead sheets. There are just all kinds of things in there."
The Wetterlings have expressed some concern about the release, he said.
"I am concerned, too," he said. "I understand the public's right to know, but in a certain way, you almost become victimized a second time."