The case for jail-based tactical teams
The result of a mismanaged emergency in corrections is often injury, loss of life, and lengthy and expensive litigation
---
Our agencies are tasked with maintaining the safety and security of our community. At the same time, we are constitutionally obligated to ensure the safety and security of those in our custody.
In the event of a major disaster, a facility breakdown, or an inmate-caused disturbance, an officer cannot afford to be underprepared. The result of a mismanaged emergency in corrections is often injury, loss of life, and lengthy and expensive litigation. The reputation of an agency could be sullied for years to come due to a few hours of ineffective response.
I believe that every jail and prison should maintain a team of highly trained deputies, with the mission of effectively responding to and controlling critical jail-based emergencies. The advantages of such a team far outweigh the financial and training burdens.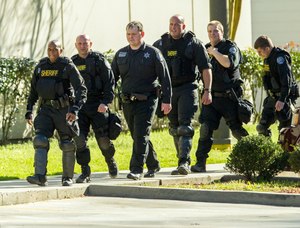 After an emergency occurs, especially one that involves a government agency, lawsuits are nearly an inevitability. With a well-trained and well-equipped response team in place, accompanied by a clear policy, an agency can point to an organized response to emergencies and effectively shut down any argument that they were not prepared for a major event.
Don't rely on patrol
At many agencies, jails rely on the response of on-duty patrol officers in the case of a significant event or emergency. In many cases, these deputies are not familiar with the physical layout, or the changing policy and procedures of the jail.
While useful for backup or perimeter purposes, this practice is more suited to a secondary plan than for primary emergency response, and seriously compromises the safety of staff, the community, and those in custody.
The National Institute of Corrections' publication, "A Guide to Preparing for and Responding to Jail Emergencies," sums it up well:
The sheriff's department may have a well-trained, professional correctional emergency response team (CERT) or special weapons and tactics (SWAT) team and well-developed contingency plans for various kinds of large-scale problems in the community, but the jail may be an afterthought, or there may be an assumption that if a serious problem occurs within the jail, the patrol side of the organization will handle it. Also, if the patrol and investigative divisions of the sheriff's department are the prestigious assignments and the jail is the "red-headed stepchild," then an issue as technically complex and demanding as emergency preparedness is unlikely to be near the top of anyone's list.
This is an issue with any sheriff's office in this country. Many officers join the team at the jail in order to progress into a patrol position. This focus on eventual departure makes an officer with this goal less likely to commit jail policy to memory, and more likely to pawn off jail emergency response to the patrol division.
Team tactics training will improve retention 
I believe that dedicated, jail-based emergency response teams will also help to combat the bleeding of staff from jails to outside agencies. Training and experience in team tactics and advanced equipment are significant draws toward patrol. With a team of this kind as an option for staff at a jail, fewer will leave for those reasons alone.
Another reason often quoted for moving from a jail position to a patrol position is the chance to take a more direct role in the safety of the community and the people that we serve. With the right leadership and coordination, a jail-based response team can fulfill that need. Additionally, in the event a team member was to move to a patrol position, the patrol division will gain a highly trained and experienced asset.
financial compensation, benefits are important
To compensate selected members of the team for their efforts in selection and training, this position should be accompanied by a monetary raise. Off-shift training time should be paid at an overtime rate. Paid time could even be provided to team members to use the staff gym at the jail or assistance could be provided with obtaining a gym membership, in order to maintain the high standards of physical fitness this position demands.
Upon the creation of a team like this, the selection process should place a premium on individuals who, in addition to an agency's formal requirements, display a passion for emergency response and a willingness to invest time and effort in the beginning stages of its existence. The energy put into a response team by its founding members will be vital in ensuring its validity and continued existence. Passionate team members, a high level of organization, and the ability to expediently activate and respond should be key features and concerted strengths of a team.
NEXT: Why corrections should cross-train for emergency response