PRESS RELEASE
Lifeloc Technologies Introduces a New Alcohol Offender Testing and Management Kiosk
---
An advanced new Breath Testing Kiosk from Lifeloc Technologies automates Alcohol Offender Testing and Monitoring in Sobriety Programs.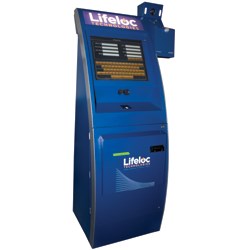 Denver, Colo. - Lifeloc Technologies (OTC:LCTC), a leading manufacturer of professional breathalyzers for Law Enforcement, Community Corrections, Probation and Parole is pleased to announce the immediate availability of its new zero tolerance 24 x 7 (ZT247™) breath alcohol testing kiosk. The new system automates the routine breath alcohol testing, reporting and tracking of alcohol offenders in DUI and related sobriety programs.    
The ZT247 kiosk improves offender authentication, reduces test taking time and enhances record keeping while significantly cutting the costs associated with manual breathalyzer testing. The automated system enables alcohol offender testing and reporting to be done in real time through a secure internet connection without direct officer involvement. The Lifeloc kiosk complements rather than replaces current alcohol monitoring technologies used in sobriety programs.
Glen Campbell, Law Enforcement and Corrections Business Manager for Lifeloc Technologies said of the new system, "Current twice daily offender alcohol testing programs require a significant commitment of time, money and administrative resources. While a great deal of innovation has been made in continuous alcohol monitoring and ignition interlock technology, little has been done until now to streamline and automate the one-on-one officer/client breath testing that takes place in breath testing centers across the country."
For administrators, real time notifications of alcohol violations are delivered to designated officers via email or text messages enabling faster and more effective violator response. A searchable database provides for easy summary reporting including client test history, failed and no show reporting, and much more. The software also enables full breath analysis scheduling control.
For offenders, the ZT247 provides secure touchscreen log-in with security monitoring from the built-in video camera and fingerprint matching. BAC capture is automated through the on-board Lifeloc breath alcohol testing mechanism. Client credit card and cash payment options are also available to support offender pay models.
More information on the ZT247 Alcohol Testing Kiosk is available directly from Lifeloc Technologies at http://www.lifeloc.com, by email at sales(at)lifeloc(dot)com or by calling us at 1.800.722.4872. Distributor inquiries welcome.
About Lifeloc 
Lifeloc Technologies(OTC: LCTC) is a trusted American manufacturer of evidential breath alcohol testers and passive alcohol sensors and screeners for workplace, law enforcement, corrections and international customers. More information about Lifeloc is available at http://www.lifeloc.com.
Forward Looking Statements 
The statements in this press release, relating to future plans, future events or products and services, are forward-looking statements which are subject to specific risks and uncertainties. These could involve particular market trends, competition factors and other risks described in documents submitted to the U.S. Securities and Exchange Commission. The actual results, events, products and services may vary significantly from the forecasts. The reader is warned not to rely on these forward-looking statements without reservation, since these are simply reflections of the current situation.